Chapter 6 Response to the Mortgage Foreclosure Crisis
The Subprime Crisis—What Happened and Why
The Cleveland community development system was doing well at the beginning of the 20th century.  Markets and housing values were on the rise, and the CDCs were in good financial shape and performing well. But housing foreclosures were beginning to creep up, and subprime mortgages were on the rise. Speculative real estate flippers/sharks were surfacing in transitional neighborhoods, taking advantage of higher valuations created by CDC housing activity. The flippers didn't do the major system upgrades that were standard practice for neighborhood groups. A fresh coat of paint and a variable-rate mortgage that started low at qualifying and increased over time were standard practice. Then came the sub-prime mortgage debacle.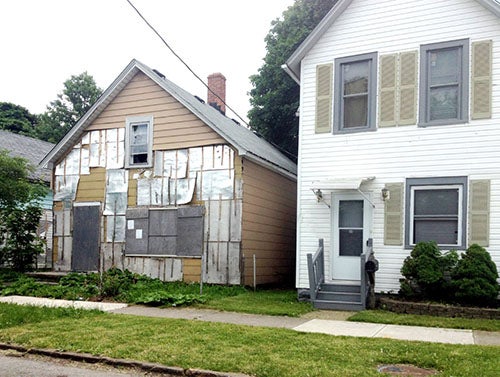 The Cleveland Response
A number of proactive responses were made to deal with this situation ranging from consultant studies of systemic responses (National Vacant Properties Campaign); law suits by NPI against two of the largest bank foreclosure practice offenders (Deutsche Bank and Wells Fargo); redevelopment of vacant houses (Opportunity Homes); a vacant land green reutilization plan (Re-Imagining a More Sustainable Cleveland); and a comprehensive grass roots neighborhood effort (Slavic Village).
Cross Roads Study
In the face of growing abandonment but before the full impact of the mortgage foreclosure crisis, NPI. commissioned the National Vacant Properties Campaign to review local conditions and make recommendations for appropriate action. (Cleveland at the Cross Roads: Turning Abandonment into Opportunity: Alan Mallach et al) This report was the impetus in 2003 for creating the Vacant and Abandoned Property Action Council. VAPAC was an intragovernmental body to help coordinate a response to improve property information systems, code enforcement, build CDC capacity, and strengthen public sector tools.
Opportunity Homes
As the foreclosure crisis began undermining neighborhood housing markets, NPI partnered with the Cleveland Housing Network in 2005 to create Opportunity Homes, with support from the National Community Stabilization Trust. Working with local CDCs, city government, and local banks, CHN acquired, renovated and sold 50 foreclosed homes in 6 targeted neighborhoods: Broadway-Slavic Village, Buckeye/Shaker, Fairfax, Glenville-Wade Park, Tremont, Detroit-Shoreway.
The goal of the pilot program was to intervene in foreclosures to assist 100 at risk families to remain in their homes and reestablish their credit; eliminate blight with targeted demolition of 100 homes deemed beyond repair and renovating 121 distressed properties as affordable homes for Cleveland families in focused model block areas.  The initiative also took aim at beautifying vacant lots through landscaping, community gardens and public art.
While the pilot program was successful, and the principles were applied in other distressed neighborhood recovery efforts, the initiative lacked the scale and resources to have city wide impact.
The Cuyahoga Land Reutilization Corporation
NPI also engaged a consultant to work with Cuyahoga County and the city of Cleveland on a successful proposal for the County for grant funding under HUD's Neighborhood Stabilization Program.  These funds enabled the Cuyahoga Land Reutilization Corporation to acquire and demolish vacant foreclosed property if necessary.
As vacant buildings were demolished, NPI, led by Bobbi Reichtell in partnership with Dr. Terri Schwartz of the Urban Design Collaborative at Kent State University, produced Re-imagining a More Sustainable Cleveland (2010). The report identified vacant land in the city and development factors that would help determine reuses to offer an economic return, community benefit, and/or enhancement of natural ecosystems. The plan also included 20 key policy recommendations adopted by the Cleveland Planning Commission in December 2008. A Pattern Book for Vacant Land Reuses was developed and distributed to community organizations and individuals interested in developing projects on vacant land in ways that maintained neighborhood fabric. This initiative was nationally recognized for its scope and relevance.
NPI sues two of world's largest banks
Frank Ford -former senior vice president at Neighborhood Progress Inc. and currently senior policy advisor at the Fair Housing Center describes the lawsuit and motivation.
By 2007 it was becoming apparent the investment CNP (then Neighborhood Progress Inc. [NPI]) was making to revitalize Cleveland neighborhoods was being undermined by increasing mortgage foreclosure and housing abandonment.
The visible blight from these properties caused a dramatic drop in home sale prices in Cleveland neighborhoods, particularly in the majority African American neighborhoods in Cleveland's East Side where mortgage lenders had heavily promoted the sale of high interest subprime loans.
Among the foreclosing banks two stood out for their foreclosure volume.  By 2008 Deutsche Bank owned over 400 foreclosed homes in Cleveland; Wells Fargo Bank owned over 200.  Neither bank appeared to have any plan for the redevelopment of these distressed homes.  Instead, faced with the possible liability these homes represented, they were offloading that liability by selling homes to out of state investors for as little as $500 per home.
On December 15, 2008 NPI sued Deutsche Bank and Wells Fargo Bank alleging their properties constituted a public nuisance and seeking an injunction that would 1) stop any further sales to investors, and 2) ensure the blighted properties would be repaired or demolished.  NPI had already created a subsidiary, Cleveland Housing Renewal Project (CHRP), for the purpose of bringing public nuisance lawsuits on individual vacant homes strategically located near CDC investments.  NPI was now going a step further by collectively addressing 26 homes owned by Deutsche Bank and 15 owned by Wells Fargo.  However, NPI went even further, it not only asked the Cleveland Housing Court to declare the individual homes a public nuisance, it asked the court to declare the bank's business practices a public nuisance.
NPI's strategic objective was to change how these banks were doing business.  This came down to two things:  either demolish or repair blighted properties, or donate all low value blighted property to the Cuyahoga Land Bank, along with a check to offset the cost of demolition or repair.
Housing Court Judge Raymond Pianka issued an injunction against Wells Fargo.  The suit against Wells Fargo was dismissed by NPI after Wells Fargo repaired or demolished their homes and began working with the Cuyahoga Land Bank to donate future distressed homes and contribute funds for any required demolition.
The case against Deutsche Bank took a different path when Deutsche was able to get their case moved out of Cleveland Housing Court and into Federal District Court.  Although Deutsche did begin demolishing some properties, it was unwilling to enter into any agreement going forward.  That began to change after NPI amended its lawsuit to add nine of Deutsche's mortgage servicers as additional defendants.   By 2012 six of the new defendants agreed to negotiate which ultimately led to a series of seven agreements with Deutsche and mortgage servicers on the following terms for an 18-month period:
Properties valued at $20,000 or less would be donated to the County Land Bank.
Any condemned property would be offered to the County Land Bank, regardless of value.
The defendant banks and servicers would pay the demolition costs, up to $10,000 per property.
Seven of the ten defendants issued settlement checks to NPI totaling $126,500, which was used to offset NPI's legal fees.
Most of the banks and mortgage servicers continued their working relationships with the Cuyahoga Land Bank for the next several years while their exposure for liability remained high.  By 2018, when mortgage foreclosure filings began to return to their pre-crisis levels, the remaining inventories of bank-owned properties had become very low.
One important legacy remains from NPI's action:  a public nuisance lawsuit, whether initiated by a community organization or a municipality, can be a powerful tool when dealing with a corporate property owner unwilling to comply with local laws and regulations.
Slavic Village Fights Back
The following account is based in part on "Cleveland's Slavic Village: Stabilizing a Neighborhood Hit Hard by the Foreclosure Crisis (2006-2017)," a paper by Dennis Keating of the Levin College at Cleveland State University.
Slavic Village /Broadway was at the epicenter of the foreclosure crisis in Cleveland and nationally, as well. It was also home to one of the strongest CDCs in the city, which had successfully developed a multifaceted housing and retail agenda. Fueled by a subprime lender like Argent Mortgage as well as real estate flippers, Slavic Village experienced a wave of foreclosures that decimated the neighborhood. Housing values fell from a 2000 peak of $70,000 to $13,000 in 2010. Slavic Village fought back via several efforts under auspices of the Vacant and Abandoned Property Task Force. NPI's Land Assembly Team along with Mike Schramm at CWRU and Kermit Lind provided mapping, data and technical assistance to this effort.
A Neighborhood Summit convened to map out a strategy and identify the critical areas of need and support for grassroots efforts like the Bring Back the 70's Block club organized by Barbara Anderson a resident and community leader.  Turning liabilities into assets, SVD created the Rooms to Let initiative in which local artists turned vacant houses into art installations.  Slavic Village Development worked with Kermit Lind and his students at the Urban Development Law Clinic at CWRU to file suits against banks and property speculators who were allowing foreclosed properties to deteriorate.  They worked closely with Housing Court Judge Ray Pianca on code violations and health and safety issues. The local councilman, Tony Brancatelli, a former CDC director, brought national exposure about the impact of the foreclosure crisis on Slavic Village.
In addition, local neighborhood anchors like Third Federal kept its headquarters in the neighborhood, did not make sub-prime loans and didn't sell its mortgages on the secondary market. Slavic Village CDC worked with the County Land Bank and County Treasurer Jim Rokakis to demo vacant properties and to begin redevelopment efforts with support from NPI's Opportunity Homes initiative and its model block program.
Slavic Village Moving Forward
Broadway/Slavic Village's response to the foreclosure crisis highlights Cleveland's toughness, its creativity, its resilience and its vision as we managed the effects of an international meltdown," says Marie Kittredge, Slavic Village Executive Director. "Here we are embracing the opportunity to redesign our community as a sustainable, 21st-century urban community of choice. We still struggle with the problems of poverty, crime and disinvestment, as do many urban neighborhoods, but we are in control and are defining our future. Through collaborative solutions developed by fully engaged residents, business and community development corporations and city government, we are moving forward."
The Big Picture—Causes and Outcomes
At the federal level, underlying causes of the subprime collapse began with the Clinton Administration's financial deregulation and multiplied in the Bush era. Then, "collateralized debt obligations" and mortgage backed securities became the hot new things, and substandard loans were repackaged on the secondary market as AAA credit. The appetite for subprime loans was intense, and Cleveland was a prime source.
As the banks collapsed, the Obama Administration focused on preventing a global financial meltdown by bailing out the big boys like Lehman Brothers with the $700-billion Troubled Asset Relief Program (TARP). Homeowners who were underwater had no support, and banks were not required to rework mortgages to keep homeowners in place, though they were expected to make a good faith effort on a case-by-case basis. Foreclosures skyrocketed, and no banker, locally or nationally, was criminally charged for malpractice.  A new market opened with acquisition and resale of foreclosed properties, many as rental properties. The leading example was the newly repurposed, mortgage bank, One West, whose CEO Steve Mnuchin made millions and became the US Treasury Secretary in the Trump Administration.
In Cleveland one consequence of the subprime meltdown was loss of local headquarter banks—National City, Ohio Savings, and ShoreBank. National City was acquired by PNC, Ohio Savings by NY Community Bank. ShoreBank was closed by the U.S. Office of the Comptroller. Cleveland neighborhoods were left on their own to deal with a patchwork of federal resources and to develop an effective response.
The result of this meltdown for Cleveland according to research findings of NEO CANDO at Case Western University, was a $2.9 Billion loss in homeowner equity based on median housing values for 1-3 housing units, which fell from their peak value in 2003 to a low point in 2006.  East Side African American neighborhoods were most severely affected, losing over 60% of their home equity on average.
Nassim Taleb in his book The Black Swan asserts that highly improbable events have a major impact on risk management and those outliers play a disproportionate role seldom anticipated and planned for. Based on this argument, one could argue that the Cleveland system's reliance on increasing homeownership rates did not anticipate or prepare for the sub-prime collapse.  True, but CDC-sponsored development did not fuel a foreclosure meltdown. Exotic financial products like collateralized debt obligations and packaged subprime loans as class A credit fueled a speculative boom in the absence of any regulatory oversight. As a result, a sub-prime home mortgage that originated in Slavic Village could be part of a class A collateralized debt package held by Deutsche Bank, which would have no interest in keeping people in their homes.  Speculative mortgage finance, was a house of cards and a money maker; however, when the scheme collapsed, homeowners were left without recourse.  Only one broker/financial executive nationally was convicted of a crime, and few lost their bonuses.
So, we can't predict the onset of a meltdown like the sub-prime crisis or a calamity like Covid-19, but we do know that when events like this do occur, and they will, most likely they will have a greater impact on the poor and/or people of color than those who caused the problem. If a regulatory infrastructure like the Consumer Protection Agency, as well as a local monitoring system, had been in place, neighborhood home owners would have been protected.
Without Slavic Village Development, Slavic Village would be a wasteland. It still has social fabric and community spirit, and a forward-looking agenda.  The same can be said for Cleveland. This speaks to our resilience and local capacity, but more is needed by way of a safety net for the most vulnerable. This is the role of government, not the private market.