Some Cultural Backgrounds
Hope for liberation and autonomy was often renewed through the spirit that was kindled and re-kindled by poets, writers and inspired intellectuals. Let us sketchily recall a few:
As early as 1443 Matthias Corvinus founded the first university at Bratislava. It was called "Istropolitana," quite appropriately, since Istros was the Greek name for the Danube. This event naturally created a degree of national pride and a sense of identity.
In 1697 John Fischer-Piscatoris had his learned treatise on "The Origin, the Right and the Use of the Slavic-Slovak Language" printed in Wittenburg.
In 1616 Archbishop Peter Pazmany established a college in Trnava and saw to its development with solicitous concern. He had a personal interest in the students and their progress, and he sent the best achievers to advanced study in Rome and Vienna, where the famed Pazmaneum was later established for specialized scholarship. In 1626 he founded Bratislava College. Three years later he was elevated to the rank of cardinal. Through his instrumentality the college at Trnava was raised to the status of a university.
Jacob Jacobeus in 1643 wrote a memorable Latin poem, "The Tears, Sighs, and Prayers of the Slovak Nation." This is a work of singular value because it traces the history of the Slovak people and their use of the Slovak language from the remote records of distant ancestors.
Providence always provided a scholar, a historian or a learned patriot like Simon Timon with his study "Imago Antiquae et-Novae Hungariae" (1733) in which he established the autochthonous origins of the Slovaks within the realm of Great Moravia. There were likewise John Balthazar Magin, whose historic research also vouched for the identity of the Slovak people, and George Papanek, George Sklenar, and George Fandly, all patriotic scholars of the 18th century.
The 19th century brought to the fore these leading personalities:
Anton Bernolák, the Catholic priest-linguist-grammarian with his pioneering language reforms and his six-volume pentalingual dictionary; Štur and the Lutheran pastors Hurban and Hodža who built on Bernolák's efforts to codify the Slovak language and who effectively introduced a iterary norm for standardized and unified Slovak expression; the celebrated poet-priest John Holly who produced works of epic length and epic quality (Svatopluk; Slav; Cyrillo–Methodiad) and who was blinded in a rectory fire later in life; Paul Joseph Šafárik and his impressive research project Slavic Antiguities; and the intrepid Bishop Moyses whose courage and gifted leadership brought to fruition the founding of the cultural institute Matica Slovenska in 1863 on the occasion of the millennial anniversary of the coming of SS. Cyril and Methodius to Slovak lands.
As the 19th century yielded to the 20th, leadership passed on to other talented individuals, outstanding among whom were he unequalled Msgr. Andrew Hlinka, prelate and statesman; General Milan Rastislav Štefánik, astronomer, diplomat, soldier and aviator; Martin Rázus, poet, leader and patriot; Bishop John Vojtaššák, heroic defender of church and nation.
Other Slovaks in the Civil War
FREDERIC WERTHER — a volunteer in Company B of New York; one who responded to Lincoln' s appeal for 75,000 volunteers to defend the Union.
JOSEPH FILIP — member of the Lincoln Riflemen.
GEORGE GRECENIK — a volunteer in the 72nd company of General Sickles; was seriously wounded near Williamsburg, Virginia.
ANTHONY FIALA — in Lincoln's 1st Cavalry Unit.
JOHN FIALA — graduate of Graz Military Academy; railroad surveyor in St. Louis; commissioned to draw the map of Missouri; ordered by General Frémont to prepare war plans for the fortification of St. Louis; grievously wounded in battle near Davenport, Iowa.
ALBERT MOLITORIS — first lieutenant of the artillery.
ANTHONY POKORNY — captain of the 8th New York infantry; later lieutenant colonel.
EUGENE KOZLAY — joined the 54th company of New York volunteers in 1861; three years later was in command; became adjutant to General Sigel; was commissioned brigadier general in 1865; became civil engineer in Brooklyn after the war.
GABRIEL KRUPINSKÝ — colonel of the 28th Pennsylvania Volunteer Company (identified as an outstanding dancer!); in 1862 ranked as a colonel in the Civil War; was cavalry commander in the Mexican War.
KLEPETNIK — surveyor, authorized by General Ross to map the territory that surrounded the besieged garrison at Bolivar, Tennessee; was captured by hostile Southerners and severely beaten; later became a prospector and researcher in Colorado.
JOHN MUZIK — colonel with the Union forces; later lived in California.
CHARLES DOLEZIC — a builder who joined Lincoln's Riflemen of Slavonic Origin in 1861; later signed with the 9th Ohio Infantry.
CORNELIUS FORNET — a surveyor, consul in California, soldier under General Frémont; organized the 22nd regiment of volunteers.
BARON THEODORE MAJTHÉNYI — born in Nitra; major under General Frémont; leader of a hundred horsemen, the bodyguard of General Frémont; with 160 riders he repelled a Confederate cavalry assualt and secured Springfield, Missouri, for the Union; captain of the 1st Indiana cavalry unit.
MATTHEW RUŽIČKA — enlisted in Pope's artillery division; was promoted to captain; is buried in Arlington Cemetery.
DR. BERNÁT SIMIK – -member of Lincoln Riflemen of Slavonic Origin; army doctor in the Civil War.
CHARLES SEMSEY — fought with the English at the siege of Sebastopol; joined the 45th infantry and became a major in the Civil War.
SAMUEL FIGULY — fought against Vienna in the 1848 revolution; fought in the Crimean War; joined the Italian navy in 1866; first came to America c. 1848, returned in 1868 with eligibility for first papers for naturalization; fought in the Civil War; was a physician and a plantation owner; cultivated cotton and tobacco in Virginia; joined an expedition to the North Pole; died in Slovakia in 1880.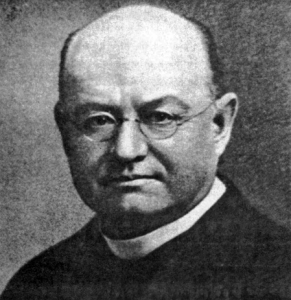 Several notable achievements marked the lifetime career of Reverend Joseph Murgas, pastor of Sacred Heart Slovak parish in Wilkes-Barre, Pennsylvania, for more than three decades, and the founder of the Slovak Catholic Federation of America in 1911.
Father Murgas is best known as a pioneer inventor in the field of wireless telegraphy. His many patents, as well as a successful public demonstration of his invention in 1905 gave him a strong claim to the title of co-inventor with Marconi of modern radio. Two of his patents preceded his successful experiment on November 23, 1905, in exchanging several wireless messages by the Mayors of Wilkes-Barre and Scranton, Pennsylvania. The transmission was witnessed by many invited guests, including U.S. Navy representatives. The event was duly recorded in the local daily press and the New York Times.
Originally, Father Murgas devoted much of his spare time in his 197 early years to art. A gifted painter, he seemed destined for a successful career as an artist. But he changed his interest to scientific experimentation in the fascinating field of wireless communication. There is ample evidence that the eminent Slovak priest-inventor not only successfully transmitted messages via the Morse Code on his own wireless apparatus but actually developed a system of transmitting the sound of the human voice over the airwaves. However, before he could perfect his discovery Marconi put his product on the market, and this led to the ultimate invention of modern radio.
In 1939 the Slovak Republic issued a pair of postage stamps in his honor and a memorial tablet was dedicated to Father Murgas' memory in his native birthplace of Tajov in Slovakia after World War II.