Romania, with 21 million people living in an area of 92,000 square miles, is the ninth most populous country in Europe. About 42 percent of the people live in cities.
Situated in the southeastern part of Central Europe, Romania's physical aspect is dominated by the peaks of the Carpathian Mountains, located in north-south direction about the middle of the country. The Carpathians separate Transylvania from the Old Romanian Kingdom and the sub-Carpathian hills fade into vast fertile plains; rivers cross the whole country like rays. The symmetry of the territory is matched by an abundance of natural resources, distributed rather evenly across a varied topography consisting of mountains, forests, pastures, vineyards, and orchards. Deposits of useful ores and other minerals round off the country's wealth.
Romanian, which is the mother tongue of 88 percent of the people, preserves the structure of Latin; most of the Romanian basic words are of Latin origin. Other nationalities in Romania include: 8.4 percent Hungarians, 1.9 percent Germans, 1.9 percent Ukrainians, and others.
The territory is divided administratively into 39 counties, 236 cities and 16,000 villages. The capital is Bucharest with a population of 1.5 million. In addition to Bucharest, Romania has 13 large cities: Cluj, Timisoara, Brasov, Jassy, Craiova, Constanta, Galati, Polesti, Braila, Arad, Oradea, Sibiu and Tirgu Mures.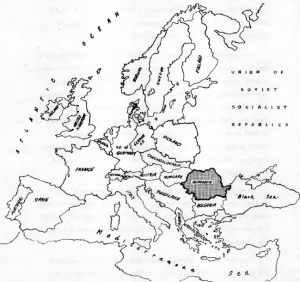 The predominant religion is Orthodox.
In some thirty years the economy of the nation has moved from a basically agricultural one to industry and the industrial output has increased thirtyfold. However, 42 percent of the work force is still in agriculture in which the basic products are corn, wheat, and sugar beets.
The climate changes from hot in the summer (in the cities like Bucuresti) to cool in the mountains. The winters are cold and windy, with occasional large accumulations of snow.
The River Danube wanders about 1700 miles across the face of Europe and becomes the southern border of Romania, as it empties into the Black Sea at its vast, reedy delta.
Constanta is an important port on the Black Sea, and nearby are resorts for Romanians and visitors: Mamaia, Neptune, Jupiter, Venus and Saturn.
However, to really know Romania, one must see not merely the land and the rivers, but the reflections of the people in embroidery, costumes, carpets, ceramics, paintings, monasteries, churches, sawmills and citadels. One must also see what else goes to make up "Romania": its glacial lakes at Retezat, the salt works of Cacica, the marble quarry of Ruschita, the Valley of Hell in the mountains of Bihor, the Polovraci caves, and the caves of Ialomicioara, Cioclovina, Meziad, Cetatile, Ponorului, the basalt columns of Detunata; the grottoes of Scarisoara, Gura Barsa, Focul Viu, the mirrorlike waters of Lake Sfinta Ana, the salt lake Ursu, where you can't sink even if you want to, and the Old Women in the Bucegi Mountains. These are some of the treasures of Romania. And then, of course, there is oil.