The 1980s symbolized a crucial period in the evolution of the U.S. automotive industry. An era characterized by rapid technological developments within the context of traditional, non-interventionist capitalist doctrines and fast growing, international corporations, domestic automakers soon found themselves caught right in the middle of this phenomenon. Foreign car manufacturers also experienced its adverse impact; but, in a somewhat different way from their U.S. counterparts. Import auto producers faced a unique business challenge posed by the U.S. Congress when, in 1981, it imposed voluntary annual restraints on the number of foreign cars permitted to enter domestic ports. Initially, that figure was 2,000,000 per year. Many Japanese car manufacturers sidestepped that legal restriction by building their-own assembly plants throughout the U.S. At first glance, Detroit's Big Three seemed indifferent to its competitors' latest business dilemma.
Much of their thinking stemming from an upturn in domestic new car sales, at the beginning of the decade, that had lulled Detroit automakers into believing that better economic and financial times were ahead. Their leaders had a hunch that their former customers would return to them once they realized that Detroit's Big Three was indeed here to stay, and that they now produced high quality vehicles at affordable prices. They claimed it was only a matter of time before all of that would transpire. With that very thought in mind, Detroit began flooding the market with what appeared at that time to be an endless supply of new domestic models of all shapes and sizes. Each new entry served the specific needs of a very select group. Cadillac Seville, Chrysler Le Baron, Pontiac Phoenix and Chevrolet Cavalier led that list. (Figure 92) Other new vehicles such as the Buick Regal, Ford Taurus, Chevrolet Beretta, Lincoln Limousine and Pontiac Fiero soon joined that group.
Public opinion appeared to favor Detroit's most current marketing strategy very much. Firmly believing that their latest vehicles were indeed the finest offerings ever built by Detroit's Big Three seemed to have paid-off as droves of customers purchased them. General Motors not only responded favorably to this sudden development by manufacturing even more cars; but also, did everything within its power to ensure its future corporate growth by initiating merger discussions with Toyota Motors, one of the leading Japanese auto producers of the day. Those two auto giants soon announced their plans that called for among other things the manufacturing of Japanese style cars at the General Motors plant located in Fremont, CA.
Their joint effort resulted in the all-new Chevy-Toyota Nova. [1] Debuting in 1985, this fuel-efficient vehicle particularly appealed mostly to young professional women. [2] Its immediate success convinced General Motors and Toyota to establish a business concern called New United Motors Manufacturing. It lasted for 25 years. That same year, officials in General Motors announced a massive five-year overhaul of its current five domestic passenger car divisions. Increasing economic and financial instability, prompted mainly by acrimonious investment opportunities initiated by unprincipled promoters, compelled many domestic automakers including General Motors to set aside their more radical business approaches. Timing and available financial resources ultimately determined the success or failure of most of those daring new enterprises.
In the case of the Ford Motor Company, it approved a bold, new business concept that led to the development and marketing of its first genuine "world car." [3] As part of this heroic effort, its Board of Directors invested heavily in expensive new equipment, while upgrading their older assembly lines. Corporate officials envisioned the day when they would manufacture a wide variety of different kinds of cars made from interchangeable parts. Under the capable leadership of its President Philip Caldwell, the number two Detroit automaker set out to accomplish this ambitious business goal. Caldwell intended to place Ford Motor Company on the world stage. Its strategists wanted to accomplish that incredible feat, while continuing to cut overhead expenses whenever possible.
With the full intention of stimulating lackluster new car sales, Detroit's Big Three announced a new three-year loan package in September 1986. [4] General Motors and Ford offered car loans with special interest rates as low as 2.9%, while Chrysler stood firm at 2.4%. A year earlier, Cleveland's Mid Park Chrysler Plymouth, had laid the groundwork for such loans when it offered its-own special deals on select Le Baron GT models. Qualified buyers had the option of receiving a $500 check from the factory and an additional discount of $1,636 or a special financial arrangement with interest rates locked in at 8.8%. [5] Ganley Dodge West had its–own monthly leasing payment plan for those wanting to purchase either a new Dodge Omni or Charger. A 10% down payment in cash or a trade-in, plus the first month payment and security charges, would get you into one of those vehicles today. The loan period lasted for 54-months. [6] Unfortunately, this special loan arrangement encouraged by Detroit's Big Three only lasted for one month.
The rush to order new domestic cars dropped immediately once those new factory incentives ended. However, this did not prevent some Cleveland dealers, such as Crestmont Chrysler-Plymouth and Fred Stecker Oldsmobile, from unveiling their own unique deals. In the case of Crestmont Chrysler-Plymouth, it unveiled its-own finance package in early 1987. Qualified customers could now receive a finance package that featured interest rates as low as 3.7%, or up to $1,000 in cash on select Chrysler LeBaron or Plymouth Reliant models in stock. That particular dealer also provided a seven-year or 70,000 miles warrantee. Fred Stecker offered a Challenger 200 security system for anyone that purchased a new Oldsmobile from him by December 31, 1986. [7] An over-abundance of unsold new vehicles, at the end of the 1986 model year, prompted those special deals.
Over the next six-months, Ford Motor Company tried to bolster sagging new car sales for its Lincoln-Mercury division by giving potential buyers a new, informative floppy disc. It described the important features found on those models along with other pertinent material regarding car warranties and special repair services. The disc also focused on the advantages and disadvantages of purchasing outright, rather than leasing, one of their many fine vehicles. Ford had improved its new car sales record considerably when, in 1988, it unveiled its latest moderately priced line of cars. Known as Taurus, the critics and the public loved it immediately. Part of its initial appeal rested in the fact that it combined the best in car designs from both the U.S. and Japan, while incorporating the latest technology. Other new models, such as the recently redesigned Mustangs, sturdy Ford Broncos and fun loving Cougars, also sparked considerable interest among potential buyers. (Figure 93)
General Motors startled the domestic automobile industry, when in January 1985, it proudly introduced an entirely different way in which to manufacture and sell cars. This unique approach symbolized a significant breakthrough in employee-owned and operated businesses. Unlike other domestic automakers that preferred to remain detached from the buying public, this highly energetic, new corporation purposely nurtured a personal connection with its many buyers. Headquartered in Spring Hill, TN and called the Saturn Corporation or Saturn LLC, this $3,000,000,000 car maker invited those who had just purchased one of their fine cars to come and visit its plant to see their new auto actually being assembled. [8] In addition, corporate officials hosted periodic reunions geared for those same Saturn owners. Those gatherings not only brought satisfied car owners together; but also, imparted within them a sense that they were very special in the eyes of the manufacturer. No other domestic manufacture to nay extent had relied on that kind of holistic business approach to sell their vehicles. The first Saturn automobile rolled off the assembly line on November 1, 1989.
There were nearly 90 Saturn franchises nationwide by 1991. Unlike traditional General Motors dealerships, these special new car distributors enjoyed a certain degree of business autonomy when it came to handling their daily operations. A special central organization known as the Saturn Franchise Operations Team determined all corporate policies pertaining to their distributors, while a Customer Action Council continually monitored current national new car sales activity by measuring the company's recent performance pitted against its closest rivals. Unlike other similar advisory councils that were frequently bogged-down in insurmountable red tape, Saturn dealers remained free of such derisive entanglements. In addition, Saturn officials relied heavily on moderate, not aggressive marketing strategies pertaining to new car sales.
That meant that fewer dealerships covered much wider areas. General Motors planned to limit the number of Saturn distributors to just below 300. That business approach depended on the eventual establishment of what they referred to as satellite offices. Solely operated by large Saturn outlets, these outlying facilities would provide a large number of customers with limited auto repair service. Other new corporate requirements specified that each Saturn dealer not only develop their-own workable five-year business plan; but also, submit detailed annual reports to headquarters describing the various steps taken by those dealerships, over the past year, to fulfill their preset goals. Those strategy sessions afforded local Saturn dealers a special opportunity to explain some of the latest business objectives they hope to achieve in the year ahead.
This holistic business approach worked very well, at least initially. The fact that the price of those new vehicles remained competitive definitely boosted sales. [9] More importantly, this new, all-encompassing business attitude provided franchise owners with the kind of business leeway, they so coveted, while helping them to remain focused on the particular goals as laid out for them by General Motors Board of Directors. Board members viewed those business goals as both essential and realistic for those dealers intending to enjoy long-term financial success. Following those proscribed guidelines had enabled Saturn of Middleburg Heights, Ohio and Saturn of Wickliffe, Ohio, to sell nearly 800 new cars by November 1991. [10]
Unfortunately, mounting pressure from Detroit officials to sell even great numbers of vehicles placed that division's future prospects in jeopardy. Specifically, it compelled Saturn sales representatives to place great pressure on their prospective purchasers to buy one of their cars today. Most successful leaders knew that the quality of the product, and not outside pressure to buy from over enthusiastic sales representatives, would ultimately seal the deal. Most people do not want excessive pressure placed on them to purchase a product especially when it is a high threshold item such as an automobile. Buyers want some time to think about it.
If accepted business practices of the day discouraged such arcane salesmanship then why did their sales representatives take the exact opposite approach? In this case, high new car inventories, more than any other single business consideration, seemed to have accounted for their peculiar behavior. In terms of the price of the vehicle itself, most Saturn owners agreed that the vehicle was well worth the price they paid for it. In an attempt to build up an even larger customer-base quickly, General Motors officials, in January 2000, announced their latest plans that included launching an extensive internet network that would connect all Saturn dealerships together. [11] Referred to as the "Next Generation Saturn Retail System", it would enable Saturn owners to set up customer service appointments online, as well as provide them the service history on their specific vehicle from virtually any worksite. Other large businesses had already adopted a similar system with great success.
In the late 1990s, General Motors Corporation enthusiastically unveiled a new three-door model called the Saturn SC. Located on the driver's side of the vehicle, behind the front door, this third door opened into a narrow compartment that could hold all kinds of miscellaneous items. In an attempt to become even more competitive within the ever-expanding domestic market, Saturn, in 2001, introduced its-own version of a Sports Utility Vehicle (SUV). Known as VUE, its initial sales were quite good. Regrettably, accelerated company debt in conjunction with a number of bad decisions that included such things as the elimination of no-haggle pricing and a growing unfriendliness on the part of its sales representatives led to the demise of this once promising auto brand. [12] Although the public generally viewed Saturn vehicles as reliable transportation, they somehow lacked that special excitement found in other models in the same price range. When plans to merge with the Penske Automotive Group fell apart in 2009, General Motors decided to close its Saturn operations. [13] The VUE reemerged, in 2012, as the Chevrolet Captiva Sports. An innovative idea in the 1990s, when the national automobile scene seemed particularly amenable to new ideas, Saturn quickly lost its business edge to other, more vibrant domestic and import models within the same price range.
Responding to the changing auto scene at the time of the Millennium, Detroit's Big Three radically departed from their traditionally based business norms. Rather than selling a regulated number of high quality models, geared towards a select group of very discerning buyers, domestic automakers decided to offer a wide array of cars in every conceivable shape, size and price range. In the case of Chrysler, Ford and General Motors, that meant more than just rebranding old, traditional products for the new global market. They also knew full well, that they could no longer rely on ill-conceived promotional strategies to see them through these tough times.
In its wake, Detroit wholeheartedly embraced a brand new business approach even though experts in the field warned them to proceed cautiously. The financial problems affecting Chrysler Corporation, over the years, made its Board of Directors particularly sensitive when it came to initiating any extensive new changes sight unseen. They had far too much to lose if they guessed incorrectly. Officials at Chrysler knew that high new car sales volume, within a specific division, often led to further expansion within that auto line, while decreased sales often resulted in production slowdowns. They had been through that experience countless times in the past and they assumed that they would go through it innumerable times in the years ahead.
The number three auto producer did not have vast amounts of capital to allocate for research or development. It had to be very prudent when it came to spending its investment dollars. The growing uncertainty of the national economy, at the turn of this century, along with the public's immediate reaction, both positively and negatively to new body designs and significant mechanical advances, seemed to determine the kind of business tactics open to domestic automakers. Chrysler's leadership knew that it could ill afford to make a blunder at this crucial stage in its history. The company's future depended on making the right decision, and then carrying it out as efficiently as possible with the hope that it would significantly boost profits quickly.
The Chrysler Board of Directors had a long tradition of not interfering in daily business operations as long as its divisions sold a respectable number of new cars annually. However, repeatedly low sales volume, compounded by high inventories, would spell financial disaster. Introducing more radical business designs, in the form of stringent accounting methods and tighter budget controls, might prove beneficial for financially strapped car divisions who wanted to rebound from recent negative cash flows or imbalances. An infusion of cash incentives or special loan packages might stimulate new car sales. However, if all else failed corporate executives would have to take dramatic steps to cut losses. That kind of thinking prompted Chrysler's Board of Directors to eliminate the De Soto. First introduced in the late 1920s by Walter P. Chrysler, De Soto appealed primarily to young professionals and their families. Although never a sales leader, De Soto managed to remain profitable into the 1950s. That fact alone should have been more than sufficient to generate consistent sales figures for many years yet to come. Unfortunately, that was not the case.
The division's overall lackluster design and less than thrilling performance, especially in the late 1940s and early 1950s, did not impress many potential customers who increasingly turned to Buick, Mercury, Lincoln, Oldsmobile and Pontiac. In spite of those drawbacks, De Soto remained competitive into the mid-1950s.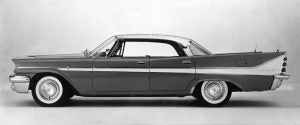 After all, if Chrysler Corporation truly intended to compete against the likes of General Motors and Ford Motor Company it would have to offer a full range of cars at different price ranges. However, as the price gap widened between low cost and luxury models, during the waning years of the 1950s, the once vibrant domestic car market for middle priced vehicles all but disappeared. This need on the part of Chrysler to produce two mid-level entries in the form of Dodge and De Soto also declined.
Dodge new car sales remained high, throughout the 1950s, due to its dependable truck line. The introduction in the 1959 model year of the mid-sized Dodge Dart further enhanced new car sales. [14] However, the same was not true for the De Soto division. Following a bumper year in 1957, when De Soto nearly surpassed Chrysler in volume, its new car sales continued to plummet. The recession the following year all but sealed its fate. Corporate officials decided to phase out this car line in 1959. It was no longer a contender in the middle priced field. The last De Soto rolled off the assembly line in 1961. (Figure 95) That specific model cost $3,102. Chrysler Corporation manufactured approximately 3,000 of them. Talks of reviving the car line occurred in both the 1960s and 1970s; however, nothing happened.
A similar fate awaited AMC's Eagle brand along with the venerable Plymouth line of automobiles. In the case of the Plymouth division, it was indeed a shocker in that Chrysler had tried diligently to increase Plymouth's presence on the national scene throughout the 1980s. In an attempt to bolster new car sales, a prerequisite of the federal bailout package in 1979, Chrysler Corporation added the AMC Jeep and Eagle lines. [15] Merger talks that had begun in earnest during the early 1980s did not wrap up until 1987. Chrysler intended to profit handsomely from its acquisition of the internationally acclaimed Jeep brand. Currently owned by the French carmaker Renault, the final merger with AMC cost Highland Park executives $757,000,000. The actual transfer involved $522,000,000 in Chrysler company stock, a $200,000,000 note and $35,000,000 in cash. Under this arrangement, AMC continued to operate its own dealerships although it was now a subsidiary of the Chrysler Corporation. Eventually, the two companies merged under the Chrysler banner.
With profits of more than $3,100,000, or $.10 a share for the Third Quarter 1978, American Motors at that time had employed 25,000 workers. [16] Although Jeep products continued to sell well following this well-publicized merger, its newly acquired Eagle brand did not fare as well economically. Similar in style to other Chrysler products of the day, corporate executives, in 2001, phased it out. That same year, the Board of Directors announced the end of the Plymouth line of cars. That well-known, low priced vehicle first appeared on the domestic auto scene in 1928. (Figure 96) Plymouth's immediate popularity impressed executives at both Chevrolet and Ford. The Great Depression of the 1930s failed to dampen Walter P. Chrysler's earlier enthusiasm about the importance of his company providing a low price, quality line of automobiles. The decision on the part of its Board of Directors, in the mid-1930s, to sell Plymouth and De Soto vehicles in the same showrooms proved to be a very smart business move.
Not only did it lower overall overhead costs; but also, enabled those competing car lines to withstand the harsh economic realities of the Great Depression. Most importantly, it afforded both divisions some needed additional time in which to develop their-own, distinct customer-bases. Plymouth remained a vital part of the Chrysler family into the early 1980s. However, growing competition, waged primarily by other low to moderate priced import autos, seriously undermined Plymouth's once substantial lead in the field. The Plymouth division found it increasingly difficult to compete within this highly saturated new auto market. In desperation, Chrysler's board, in 1998, halted Plymouth production. Divisional new car sales had plummet from 750,000 in 1973 to 307,000 by 1998. [17] Those models previously manufactured under the Plymouth logo became either Dodge or Chrysler products.
High quality engines and multiple transmission choices, along with the growing popularity of its truck lines, prevented Chrysler's Dodge division from facing a similar economic fate at the time of the Millennium. [18] Dodge dealerships throughout the country including Glavic Dodge in Wickliffe, OH fought hard to keep their franchises opened. Beginning in the 1980s, Glavic Dodge had relied heavily on factory rebates, gimmicks and promotions to guarantee repeat business. For example, one of Glavic Dodge's promotional gimmicks, during the summer of 1984, offered two free tickets to an upcoming Kenny Rogers concert and up to $3,500 off on all remaining new cars and trucks. [19] Those special factory offers continued until the end of that decade when Glavic Dodge introduced some additional incentives. They included such things as rebates up to $2,500 plus new car financing as low as 6.8%. [20] The money Chrysler Corporation saved by eliminating its Plymouth division went towards paying off its mounting debt and funding prototypes.
Much the same thing occurred at Ford Motor Company where decreasing sales led to the cancellation of the once popular Mercury line of fine cars in 2010. [21] Dearborn's actions came as no surprise to many experts. Unable to generate sufficient new car sales recently, the Mercury division of fine cars no longer fitted in with the growing number of high quality, new products found in both its Ford and Lincoln divisions. [22] Those two well-respected brands quickly filled-in the gap resulting from its elimination. Structural and mechanical commonality with other Ford and Lincoln models further undermined Mercury's appeal to the buying public. On the heels of this announcement, Ford Board of Directors unveiled its latest business strategy that called for new, wide-scale investment in its two remaining car lines. A tightening global market, precipitated by a wide array of impressive, new engines and equally desirable body designs emanating from their many overseas rivals, signaled the end of this once proud line of medium priced domestic automobiles.
A similar fate awaited Oldsmobile and Pontiac. Once highly respected middle priced leaders in the domestic automobile industry, new car sales for Oldsmobile and Pontiac had plummeted as of late. Import cars in the same price range had taken over the market. In a last ditched effort to save its Oldsmobile division, General Motors approved a new SUV. Critics praised the all-new Oldsmobile Bravada when it debuted in 1990. A practical SUV, noted for its economic V-6 engine, powerful four-speed transmission and nicely appointed interior, its less than impressive sales record ultimately ensure that auto division's demise. [23] The same held true for the Pontiac line of automobiles. In the end, mounting financial problems, caused by the lack of new car sales, led to the shutdown of Oldsmobile in 2004 followed by Pontiac in 2008. The Buick, Cadillac and Chevrolet divisions of General Motors remained intact.
Brisk new car sales activity led one of Cleveland's most innovative distributors Bob Serpentini Chevrolet, in 2002, to erect a brand new 60,000 square foot, two-story dealerships in Strongsville, OH. [24] On another positive note, General Motors and Ford Motor Company simultaneously embarked on a new and exciting business venture in 1992. If it proved successful, it would ensure profitable returns for both companies by locking-in a domestic market for their many vehicles. The phenomenal success of MasterCard and Visa cards, over the previous three decades, had convinced a large numbers of national and international businesses, such as General Motors and Ford, to offer their-own special credit cards. Both the new General Motors MasterCard and Ford Citibank Visa cards provided their customers a 5% rebate credit through special escrow accounts. The credit earned through the frequent usage of their credit cards went directly towards the buying or leasing of one of their fine cars in the future.
Under this arrangement, General Motors limited the amount of those rebates to no more than $500 annually extended over a seven-year period, while Ford set a yearly maximum of $700 covering a five-year span. [25] Customers holding General Motors Gold Cards received additional rebates every time they went to their dealer for repair services or auto parts. Those credits, along with other lucrative discounts and factory rebates, lowered the price of a new vehicle. The growing popularity of frequent flier miles discounts set the precedent for these credit cards. In November 1996, General Motors proudly reported that over the past four years their many dealers had sold more than 700,000 vehicles using this credit card-rebate program. Latest statistics indicated that, in 1996, General Motors owed potentially $2,500,000,000 on its credit card program, while Ford owed slightly more at $3,100,000,000.
In lieu of Chapter 11 bankruptcy, the federal government offered special bailout packages totaling $17,400,000,000 to both General Motors and Chrysler in 2008. [26] In the case of General Motors, it required Detroit's largest car maker to reduce its labor costs and operational expenses substantially. Federal officials further insisted that General Motors and Chrysler must immediately reduce their wages and benefit packages offered to United Auto Workers. Federal leaders, at the same time, extolled the recent labor agreement made between workers at Honda, Nissan and Toyota with their bargaining agents. Additionally, federal provisions required General Motors and Chrysler Corporation to terminate their Jobs Bank Programs immediately. Those controversial business initiatives had assured full wages for participating autoworkers even in the event that their assembly plants remained closed.
Not facing eminent bankruptcy, Ford Motor Company asked federal officials for a special $9,000,000,000 credit line. One of the first steps taken by General Motors to lessen its immediate debt involved the elimination of low volume models. If that manufacturer could achieve that desired goal effectively and efficiently, it would represent a major step forward for General Motors as it attempts to remain the leading automaker worldwide. The importance of maintaining their individual presence on the global scene was not lost to either Chrysler or Ford. They knew it entailed among other things the doing away with duplicate customer services and eliminating low volume dealerships. In the latter case, the majority of the thousands of franchises adversely affected by the announced closings decide to settle their legal disputes out of court. Those able to survive this latest round of closings usually prospered for a while. As mentioned earlier, such things as state laws, operational procedures, high equipment prices and costly facilities continued to propagate the idea of selling new cars through authorized dealerships. [27]
Successful consolidation activities on the part of Detroit's Big Three may have reduced some of the mounting overall overheads costs collected over the past half century; however, those actions, in themselves, did not assure sustained growth for any of them, how could they? Becoming more competitive on the world stage was the best way to guarantee long-term economic and financial success. Nowhere was that more evident than at Ford Motor Company. The number two Detroit automaker avoided bankruptcy in 2008-09 by noticeably increasing its new car sales. In particular, Ford had participated in special federal programs aimed at preventing some of the worse economic pitfalls that had overwhelmed a number of domestic auto manufacturers in the recent past.
One highly successful program called "Cash for Clunkers" directly aided Ford Motor Company in attaining its quest. Under well-defined guidelines, those customers who had recently purchased new fuel-efficient Ford vehicles would receive $4,500 for their trade-ins, no questions asked. That business strategy stimulated immediate new car sales. At the same time, its executives initiated a new business initiative that involved an assortment of newly approved cost-cutting measures, while continuing to promote individual model brand recognition with the buying public.
The growing importance of international business deals did not elude Detroit's Big Three. Such deals directly reflected the changing nature of the domestic automotive industry over the past half century. Ford Motor Company led the pack when it invested heavily in what were highly profitable foreign markets beginning in the 1970s. That willingness to go the extra distance led Ford, in 1989, to merge with Daimler AG. That merger enabled Dearborn executives to purchase one of the legendary sports car companies in the United Kingdom called the Jaguar. Over the next 15-year period, Ford Motor Company maintained controlling interest in several other prestigious overseas car makers including Volvo and Land Rover.
Recent bold actions taken by Ford reflected its ever-changing business attitude as it prepared to enter the 2020s. It began in 2018, when officials announced their plans that called for gradually phasing out their current domestic passenger car lines with the exception of the Focus, Active and Mustang. Recent declines in new car sales in coupes and sedans prompted that landmark business decision. Ford plans to focus most of its attention towards manufacturing crossovers, pickups and SUVs. The antecedents leading to this latest streamlining of operations originated three decades ago when Detroit's Big Three began ever so slowly to redirect its main business efforts away from narrowly defined national prerogatives towards more broad based international needs. [28]
The inclusion of highly desirable accessories and renewed public awareness of passenger car safety along with the incessant demand for tighter quality controls took precedent over other, less-defined business considerations of the recent past. Previous actions by Detroit's Big Three mostly concentrated on updating body designs, on a three to five-year cycle, and promoting a wide range of glitzy, often over-priced accessories or options. Modern-day manufacturing and marketing trends are just the opposite. In particular, the public no longer accepts the business notion that planned obsolescence is an inevitable part of the domestic automotive game. The high cost of both owning and operating modern automobiles put an end to that idea. A properly maintained vehicle will retain much of its original value for many years yet to come.
In retrospection, the variety of popular vehicles found on the domestic scene had remained much the same from the 1940s to the 1970s. Detroit's Big Three and the few remaining independents sold similar convertibles, coupes, sedans, station wagons and pickup trucks year in and year out. Prominent national manufacturers, such as Buick, Dodge or Lincoln, might on occasion offer a stylish version of one of their popular models or produced some limited version of a dream car. The 1953 Buick Skylark at $5,000, Cadillac Eldorado at $7,750 and the Oldsmobile Fiesta at $5,717 come to mind immediately. General Motors that year sold 1,690 Buick Skylarks, 532 Cadillac Eldorados and 458 Oldsmobile Fiestas. (Figure 97) In most cases, the manufacturers produced such collectible models with the sole intention of stimulating new car sales within their respected divisions. Corporate officials remained true to that effort even if the models they introduced might not have sold particularly well.
Relying on specialty models to underscore certain brands, perhaps at the expense of other more dowdy models, grew in popularity industry-wide throughout the 1960s and 1970s. As everyone recognized in those halcyon days, well-executed promotional campaigns generally renewed customer interest in a specific car maker or a particular line of vehicles. Whether that curiosity actually translated into substantial new car sales for the company involved was another matter entirely. By the late 1970s, most domestic automakers had to admit that it took much more than stylish new car models and slick promotional campaigns to stimulate significant new auto sales. They knew that they must adopt more drastic business measures if they hoped to survive the on slot of popular imports that had been invading our shores in recent years.
In the early 1980s, Chrysler Corporation's new, well-orchestrated course of action represented an important first step in what would soon become a much grander, more multifaceted approach towards business that would culminate in that company enjoying an economic rebound by the end of that decade. Chrysler's new standard of manufacturing excellence not only fostered greater operational efficiency; but also, encouraged their many franchises to offer a wide array of new highly desirable models targeted towards a much wider customer-base than had been the case previously. It also led them to embark on a major, short-term business venture with a prominent Japanese automaker called Mitsubishi that led to lean production. [29] Under the leadership of its highly energetic, new President Lee Iacocca, Chrysler Corporation unveiled its latest offering in the1983 model year.
Its latest entry into the domestic auto scene embodied an entirely new kind of vehicle designed for the particular needs and wants of the growing American family of the 1980s. Recent market studies had indicated that although most U.S. families owned some variation of the conventional station wagon, the majority of them considered them less than satisfactory when it came to handling their daily needs. [30] Uncomfortable seating and inadequate cargo space led their list of complaints. In 1982, General Motors had tried with limited success to respond to those growing customer complaints by offering the all-new Chevrolet Caprice Estate wagon. A front-wheel drive, mid-size station wagon, it cost anywhere from $9,000 to $13,000 depending on accessories. [31] A great many dissatisfied buyers still wondered why Detroit's Big Three had not come up with a better solution to their growing dilemma. In the early 1980s, Chrysler designers and engineers, like their Ford and General Motors counterparts, had also considered a full range of possibilities that extended far beyond traditional station wagons. Highland Park leaders concluded that enlarging contemporary station wagons represented the simplest solution to this baffling problem. However, their executives also knew that the buying public might not eagerly endorse such an idea.
Further experimentation came up with a better, more practical solution to their quandary. An affordable, commercial-style van, with nicely appointed interiors and pleasing exterior details, was the answer and just such a vehicle appeared in Chrysler-Plymouth and Dodge showrooms in 1983. Called minivans, they cost anywhere from $15,000 to $17,000 depending on the model involved and options included. They sold as either Dodge Caravans or Plymouth Voyagers. Automotive experts, at that time, hailed Chrysler Corporation for its business ingenuity. Front wheel drive vehicles noted for their compact dimensions and easy maneuverability, these minivans symbolized the greatest single achievement to come out of Detroit in the 1980s. [32] They became bigger and more luxurious in the years ahead.[33]
Minivans appealed to a wide range of domestic car buyers from the very beginning. They provided comfortably seating for the entire family and included some of the best amenities that had previously been reserved for only the highest priced convertibles, coupes and sedans. Representing the best of all worlds, these well-designed entities sold quite well. In fact, nearly every soccer mom in the U.S. drove some variation of the minivan in the 1980s and 1990s. Chrysler's recent financial success enabled the number three Detroit automaker to repay the federal government its debt by acquiring outside loans totaling $1,200,000. [34] Chrysler's latest financial windfall, resulting from this deft marketing device, did not elude enterprising leaders at both Ford and General Motors. They wasted little time before introducing their own versions. For example, Ford Motor Company and Nissan Motors, a leading Japanese automaker, jointly manufactured their-own special minivans. The Villager was the Ford version, while Nissan produced the Quest. [35] A flexible seating arrangement, highlighted by a removable third row of seats, distinguished these two rival minivans. Both the Villager and Quest were about the same price as the two Chrysler products. Detroit manufacturers are still producing versions of the minivans to the present day.
Chrysler Corporation's phenomenal financial success with the minivan helped to offset the sizeable financial losses it incurred following its recent breakup with Daimler Benz. That much-heralded $36,000,000,000 merger, negotiated in 1998, involved exchanging stock certificates. It seemed at the time a good business move for both parties in that Daimler-Benz desired a larger percentage of the U. S. market, while Chrysler wanted additional venture capital targeted towards research and development. Working together, this new international company not only successfully integrated domestic and foreign-made parts into their many automobiles; but also, effectively marketed both the Chrysler Crossover and Dodge Sprint. Regrettably, the vast majority of Daimler-Benz stockholder did not view this merger in such a positive light. Considering it an unfair deal for Daimler-Benz, disgruntle investors filed a class action suit against Chrysler Corporation in 2002. The subsequent $300,000,000 settlement so angered Daimler-Benz current Board Chairman Jürgen E. Schrempp that he tendered his resignation three years later.
A private equity company that specialized in saving financially distressed firms, Cerberus Capital LP, in May 2007, purchased just over 80% of Chrysler Corporation for $7,400,000,000. Two years later, that same company exchanged the Chrysler automotive component division for its Financial Group. In turn, Toronto Dominion Bank purchased the Chrysler Financial Group for $6,300,000,000 in 2010. World-renowned Italian automaker Fiat, desiring to gain a greater foothold in the U.S. auto market, purchased more than 50% of Chrysler stock less than a year later. Now known as Fiat-Chrysler, this Italian-American corporation is the world's eighth largest car manufacturer. As a sign of respect and as a good marketing tool, Fiat continues to uphold the quality standards that made Chrysler the number three domestic auto producer for so many years. Fiat's plans call for making Chrysler Corporation more competitive against Chevrolet, Ford, Toyota and Volkswagen, while encouraging its Dodge division to focus more directly on its high performance automobiles and top quality pickup trucks. Chrysler Corporation continues to sell two popular minivans the Chrysler Pacifica and Dodge Grand Caravan.
In an attempt to stem growing customer dissatisfaction with their many products and services, Detroit's Big Three initiated major business changes starting in the 1980s. General Motors turned to Teknowledge Incorporated to provide it with a new, first rate software package that would not only analyze the noises and vibrations found in its many automobiles; but also, develop new testing systems and effective repair kits that would effectively remove them. Following General Motors lead in this area, Ford Motor Company perfected its-own unique testing system with the assistance of the Pittsburgh-based Carnegie Group. Its Service Bay Diagnostic System (SBDS) scrutinized computer problems while the vehicle remained in motion. This proscribed SBDS system cost around $23,000, and required special training upfront. Many smaller dealerships showed a reluctance to invest in such expensive equipment. They believed that their repair shops would not need such sophisticated devices given the limited call for such services.
The late 1980s and early 1990s saw many dealerships embrace a brand new approach towards selling automobiles. [36] Called the one-price concept, it eliminated the customer's need to haggle over price. Under this new arrangement, the sticker price of a vehicle was its actual price. The more sophisticated buying public of the new Millennium demanded it. A study conducted by J.D. Power, in 1992, reported that during the past calendar year the number of one price domestic dealers had increased by more than 70%. It made the process of purchasing a vehicle so much easier than had been the case in the immediate past. Sales figures, released in January 1992, substantiated that claim. Ford Motor Company reported that sales in Cuyahoga County, OH alone for the month of January 1992 had increase by 48.7% over December's tally.[37] Corporate officials strongly recommended that sales representatives might take the extra time saved in not haggling over price to promote their dealer's high quality car repair services.
Another business plan, introduced at that time, focused less on selling new cars and more on marketing late model cars and most especially those vehicles loaded with desirable accessories. This new appreciation of the used car market originated with the growing number of low mileage rental cars whose two to three-year leases had expired recently. For the first time in recent memory, automobile dealerships viewed the used car market, which now exceeded 30,000,000 cars annually, as a great moneymaker. This rediscovery inspired many dealers to raise the prices of their used cars. Many dealers also gave special attention to well-maintained, one-owner vehicles. They negotiated new leases for many of those same vehicles, which included additional factory incentives such as roadside assistance and long-term warranty protection. There new, highly touted incentive packages paid off very quickly. By the mid-1990s, the number of used car sold in the domestic market had exceeded new car purchases. That phenomenon had not occurred in nearly four decades. [38] General Motors and Ford Motor Company responded to this new, highly beneficial market by overhauling all their pre-owned vehicles and extending their warranties. Those extended warranties covered a wide range of everyday mechanical problems previously not handled by these franchises.
At the turn of this century, Ford executives announced their ambitious new plans that included, among other things, upgrading customer service areas in their more than 4,000 dealerships. Similar to the highly successful Daimler-Chrysler AGs Five Star Service Quality Program, Ford's brand new Blue Oval Certified Program encouraged its many prized affiliates to participate in a series of volunteer corporate inspections. [39] Those visits by headquarters focused on dealership effectiveness, customer satisfaction and the physical condition of the showroom and repair shop. Willing participants gained direct recognition from Dearborn that included informing perspective employees of the many advantages of working at one of those complying dealerships. It also emphasized the many personal benefits available to those working in those distributors. They ranged from significant discounts on new vehicles to highly rewarding retirement plans.
From the early 1980s to the early 1990s, national market studies had shown growing customer dissatisfaction with the latest vehicles emanating from Detroit. Minivans may have temporarily fulfilled the needs of many families for affordable, dependable transportation. However, Detroit's Big Three had not begun to address the pressing demand by young, upscale buyers for their-own special vehicle. Customizing existing coupes and sedans might have remedied this growing problem to a limited extent; however, it did not furnish them with their own high quality cars. Specially designed sports cars might have achieved the desired end for a select few; but again, they proved too costly and far too impractical for the majority to own and operate. There had to be something else out there that could be geared specifically for their growing needs. The 10th Anniversary Pontiac Trans Am at $10,800 and Oldsmobile Toronado at $5,000 represented practical options for some, while the Dodge Charger Daytona at $4,000 and Ford Mustang II King Cobra at $5,000 met the needs of others. The new mid-engine, two-seater Pontiac Fiero, the pace car for the 1984 Indy 500 race, was also appealing. [40] Regrettably, its sluggish performance and poor workmanship doomed the Fiero from the start.
Another popular vehicle coming out of the Detroit factories, in the 1990s, was not some half-hearted attempt to create a street version of a popular dream car or roadster. In fact, it was not a new kind of vehicle at all; but rather, an updated version of the good old pickup truck, but with some very noticeable improvements. No longer drab or dull looking, these well-appointed single cab trucks offered a completely new driving experience. They featured high performance engines and a host of other desirable accessories that covered the gamut from Wi Fi, traction control, keyless entry and antilock brakes to fog lights, heated seats, tilt featured moon roofs and aluminum wheels. New owners did not stop there. They often customized their individual pickups even further to reflect their own unique sense of style or taste. In many ways, today's pickups emulate the legendary hot rods of the immediate post-war years.
Contemporary domestic manufacturers have expanded upon those unique pickups of the 1990s to include double cabs, smart cabs, super crew cabs and 4x4s to name a few. Able to climb the steepest inclines with relative ease, travel across the worse terrain in comfort and maneuver through traffic jams without a scratch these modern-day pickups are indeed prize-winning vehicles. In fact, the Ford F-150 and the Chevrolet Silverado continually vie with each other for first place in domestic truck sales. The heavy-duty Ram 1500 and 2500 has also enjoyed impressive new sales records. Today's imported pickups such as Isuzu, Mazda Nissan and Toyota have profited greatly from this phenomenon as well. In fact, Tacoma and Tundra models are two of Toyota's top sellers in the present market.
Another breakthrough in the domestic automotive industry occurred at the turn of the 21st century. Tiring of minivans, the public clamored for another kind of family-oriented vehicle. They insisted that it combine the best features of the minivan and traditional station wagon, along with the rugged durability of pickup trucks. Sports Utility Vehicles (SUVs) and Crossover Utility Vehicles (CUVs) have admirably fulfilled that growing demand. A controversy presently exists among some automotive experts as to which carmaker first manufactured SUVs. Some argue that Toyota took the lead in the 1990s, while others contend that American Motors Corporation led all others two decades earlier. Whoever is correct, one thing stands out above all else. SUVs have made a lasting impression with domestic car buyers as their popularity continues to grow each year.
The phenomenal success of SUVs far exceeded initial expectations. In fact, new car sales are so brisk that Ford Motor Company recently announced that it is going to devote the bulk of its efforts towards producing high profile SUVs and pickup trucks. The fact that in 2018 combined sales for SUVs and pickups comprised nearly 60% of all vehicle sales prompted that landmark decision. Affordable and roomier than traditional four door sedans, SUVs and pickups are safer than the majority of contemporary automobiles on the open road. Detroit's Big Three and the majority of foreign carmakers are presently retooling their assembly plants in order to better accommodate a wide range of new SUVs and top-of-the line pickups in the near future. To some extent, SUVs imitate conventional station wagons especially in terms of their overall design and everyday usage.
However, the similarities between these two kinds of vehicles end there. Unlike traditional, rear-wheel drive station wagons that often resemble other two-door and four-door models manufactured by the same company, SUVs are usually high profile, all-wheel drive vehicles. Large, commercial–styled entities, they rarely, if ever, bear any resemblance to other passenger cars produced by the same corporation. Using truck frames, rather than standard car frames, further distinguishes SUVs from traditional station wagons. In addition, these durable automobiles, with their movable rows of seats, accommodate anywhere from five to seven persons comfortably. SUVs accessories run the gamut anywhere from aluminum wheels, cameras, cruise control, fog lamps and lane departure to keyless entry, remote starters, power-operated sunroofs, touch screens and voice-commanded Bluetooth. Tucked away storage binds also appeal to many as do hand-held vacuums with cords that plug into battery-operated outlets strategically placed throughout the vehicle. Few station wagons offer such luxuries.
Their well-appointed, universal exterior designs, with minimum detailing, do not vary greatly from one manufacturer to another. Safety-minded vehicles, many SUVs are not particularly agile or fuel-efficient. Some of the most popular domestic models include the Buick Encore, Buick Envision and Cadillac Escalade. Other favorites are the Chevrolet Equinox, Chevrolet Suburban, Chevrolet Trailblazers, Dodge Durango, Dodge Journey, Ford Edge, Ford Escape and Ford Expedition. The GMC Terrain, GMC Sierra Denali, GMC Yukon, Jeep Compass, Jeep Renegade, Jeep Wrangler, Jeep Cherokee, Lincoln MKT and Lincoln Navigator also enjoy a substantial following, as do various SUV imports.
Crossovers (CUVs) also gained great popularity at the time of the Millennium. They differ somewhat from standard SUVs in that most of them are unibody-constructed vehicles that ride on automobile, not light truck chasses. That difference generally makes them more agile and fuel-efficient. The major downside of owning and operating CUVs is that most of them cost more than comparable SUVs. Many experts contend that Audi and Lexus led the pack when they introduced their-own versions of CUVs in 2006. Detroit's Big Three may not have been first in developing them; however, that has not prevented them from producing a large number of popular CUVs in different price ranges. The present-day market for mid-size and full-size CUVs appears endless. Currently domestic versions include the Buick Enclave, Cadillac XT5, Chevrolet Blazer, Chevrolet Traverse, Chevrolet Trax, Ford Explorer and Ford Flex.
Hatchbacks and hybrid electrics have also enjoyed great sales over recent years. What differentiates hatchbacks from other small vehicles is that they feature a wide rear door that usually swings upward. The Chevrolet Spark is a modern-day example of just such a vehicle. Sometimes called three-door or five-door automobiles, they first appeared in the domestic market of the 1970s. The AMC Gremlin, Buick Hatchback, Ford Fiesta and Chevrolet Chevette represented Detroit Big Three's immediate response to the growing number of import compacts entering the domestic market in those years. The domestic versions of these hatchbacks sold very well at first. However, with the arrival of more stylish compacts, by the mid-1970s, its earlier sales lead quickly disappeared. (Figures 98 & 99) However, they did not disappear entirely as witnessed by today's hatchbacks that come in a wide variety of shapes and sizes. Hybrid electrics symbolized another major technical innovation to re-emerge in the early 1970s when environmentally conscious customers started looking for alternative energy sources for their NEW domestic automobiles. That interest in finding a new power sources was part-and-parcel of a highly publicized national campaign that called for cleaning up the environment by conserving precious natural resources and fuel supplies.
Its advocates claimed that high levels of air pollution, smog and mounting chemical wasted were ruining our national environment. Some automobile dealers were very outspoken in that regard. For example, a leading Northeast Ohio auto dealer David Blaushild, in 1965, sued the City of Cleveland for failing to enforce recently passed anti-pollution laws aimed specifically at protecting Lake Erie. City Hall officials responded by claiming that were waiting for the state legislature to decide whether the city or state had the legal jurisdiction to enforce those regulations. [41] Blaushild's prominent highway billboard "Let's Stop Killing Lake Erie" said it all. [42] Environmental groups became even more vocal in that regard during the late 1960s and early 1970s. Their protests culminated in the first Earth Day celebration in 1970. Thousands of people marked that occasion by participating in organized marches and street rallies that were held nationwide. Their actions led to the creation of the Environmental Protection Agency (EPA) in 1971, and the subsequent passage of other federal and state programs intended to clean up the environment.
The domestic automotive industry eagerly watched as those developments unfolded. Throughout the 1970s and 1980s, federal and state legislators passed numerous laws and regulations intended to improve air quality, soil and water. Their efforts called for, among other things, more environmentally friendly automobiles. They not only required new vehicles to use unleaded rather than leaded gasoline as fuel; but also, mandatory pollution control devices such as catalytic converters. (Figure 100) Those restrictions may have addressed some of the major complaints expressed by ardent environmentalists at that time; however, they did very little to remedy other, more long-standing issues. In spite of the growing political pressure from outspoken environmental advocates and their equally dedicated lobbyists for even tighter federal controls and regulations, the domestic automotive industry showed only lukewarm interest in developing environmentally friendly energy sources for their new vehicles. They continued to rely on traditional gasoline powered, internal combustible engines to operate their new cars even though experimentation with other energy options, such as diesel powered engines, was occurring. The fact that Detroit's Big Three expressed only mild interest in the idea of advancing alternative sources of power was surprising since at the turn of the last century that industry had eagerly pursued that end.
During the first two decades of the 20th century, electric and steam-powered automobiles dominated a large segment of the domestic auto market. However, mechanical limitations and lobbying efforts by oil interests meant that eventually gasoline powered, internal combustible engine would win out. Increased demands by environmental advocates, in the mid-1960s, convinced a dedicated group of scientists of the importance of developing alternative sources of power quickly. Electric and hybrid power soon emerged as two viable alternative energy sources to more traditional gasoline powered, internal combustible engines. Three innovative scientists led by Baruch Berman, George Gelb and Neal Richardson expressed outrage when they discovered that only a handful of their esteemed colleagues were actively investigating other, perhaps cleaner sources of energy. Since much of the smog and pollution in our cities originated from inefficiently operated domestic automobiles, they felt that it was imperative that the scientists develop more environmentally friendly sources of energy now. Fully cognizant of the many strengths and weaknesses of traditional internal combustible engines, these highly dedicated scientists began experimenting with a wide range of alternative energy sources. Their efforts produced a new, hybrid powertrain in 1971. It featured an electromechanical transmission that boosted a special electric engine, which was smaller than most internal combustion engines of the day. Numerous experiments, over the next decade, illustrated the many practical advantages of using such a propulsion system. With the support of both the Bush I and Clinton administrations, automakers worked diligently to perfect hybrid electrics.
One of the major Japanese auto manufacturers Toyota enjoyed a commanding lead over its chief rival General Motors when it marketed its-own version of a hybrid called the Prius in 1987. Three years later, Audi, Ford and Honda unveiled their-own models. Named the car of the year in 2004 by Motor Trend Magazine, Toyota's Prius II immediately gained a substantial loyal customer-base. [43] Modern equivalents feature electric powered motors and gasoline powered, internal combustible engines. These specially designed gasoline-powered engines drive an electric generator, which, in turn, powers the electric motor. That results in less fuel intake and a more environmentally friendly vehicle. This is especially true when compared to other, more conventional automobiles that are operated by gasoline powered, internal combustion engines. Today's hybrids automakers range from Buick, Chevrolet, Ford and Honda to Hyundai, Lexus, Nissan, and Toyota. Other major car producers such as BMW, Infiniti, Mercedes-Benz and Lincoln have also profited greatly from introducing their own versions.
One of the most exciting recent developments occurring within the automotive industry concerns self-driving vehicles. The idea is not new. In fact, it originated during the First World War when a number of experimenters tested various versions. Francis Houdina represented one of the early innovators who devised his-own self-driving prototype. He drove a radio-controlled Chandler automobile throughout Manhattan Island in 1925. Although some experts praised his efforts, as a major achievement in the field, others remained skeptical. Further advances in this area did not occur until the post-war era. Breakthroughs in communication and a growing interest in perfecting auto safety, in conjunction with the development of computer-related industries, encouraged further experimentation. Any significant developments owed much to the founder of artificial intelligence John McCarthy (1927-2011). In the mid-1960s, he predicted that self-driving cars would be available in the not too distant future. He believed that the key to its success rested in what he called properly programmed keyboard-generated computers. He argued rather convincingly that finely tuned computers would someday guide the motion of all automobiles.
With the acceptance of neutral networks, as expounded by Dean Pomerleau of Carnegie Mellon University in the 1990s, scientists started programming specially equipped vehicles so that they could not only interpret road images; but also, translate them into maneuverable output steering controls. Pomerleau and Todd Jochem maneuvered a driver-less vehicle from Pittsburgh, PA to San Diego, CA. In 1995, they founded the Robotics Institute at Carnegie Mellon University. The positive publicity they generated from their many successful efforts led to further experimentation in the field that culminated with a new Toyota Prius in 2003. It featured automatic parallel parking assistance.
Slightly earlier, General Motors had developed a similar parking assistance system for its Pontiac division. However, red tape prevented it from reaching the public first. Not caught up in similar internal squabbles, Lexus and Ford wasted little time before unveiling their-own parking assistance option. Google followed suit and proudly launched its own self-driving automobile in 2009. Under Sebastian Thrun (b. 1967), former director of Stanford University Artificial Intelligence Laboratory, Google successfully built the Waymo. Over the next three years, that experimental vehicle has clocked in more than 2,000,000 miles. BMW, General Motors, Ford and Mercedes-Benz are also working on their-own versions of self-driving vehicles, which they intend to sell very shortly.
Tesla Corporation represents another 21st century domestic manufacturer that has received extensive press coverage as of late. Founded in 2005 by Martin Eberhard (b.1960) and Marc Tarpenning (b. 1964), Tesla's engineers are also busily engaged in developing their-own self-driving, electric automobiles. Although recent experiments have produced mixed results, its officials remain optimistic. Tesla's industry firsts in the electric car field include a roadster, introduced in 2008, followed by its Model S, four years later. In the case of Model S, Tesla has the distinction of being the world's best-selling plug-in electric car. That company's approach towards distribution is quite different from most of its major competitors. The majority of domestic car makers depend on a multitude of affiliated dealerships to sell and service their many products. Tesla prefers to sell its cars through online services or company-owned and operated stores. Most of its 200 company-owned outlets are located in major shopping malls. Tesla customers remain divided as to whether this tactic is effective or not. However, those in favor of the idea like dealing directly with the manufacturer. Tesla sales topped the 250,000 mark in 2017.
Although the option of leasing, rather than, purchasing automobiles may have begun as early as 1916, it came of age during the post-war years when a wide array of successful businesses repeatedly put pressure on local car dealers to provide them with new cars and trucks on an annual basis. [44] Those business leaders wanted to create their-own special business arrangements with local distributors that would allow them to trade in their late model vehicles, at the end of each model year, for all-new vehicles without incurring tremendous financial losses. [45] Insightful automobile dealers soon determined that reasonable leasing arrangements made between those special customers and themselves should resolve their dilemma. Leasing would enable those businesses to change their cars and trucks annually without experiencing an undue financial strain on their annual budgets. At the end of each leasing cycle, participating businesses would negotiate a new, equally affordable lease on either the same model or a newer version of it. Supplying both short-term and long-term leases, through what dealers called "fleet management services," proved lucrative. Rent-a-car companies, such as Avis and Hertz, also took advantage of this new option regularly.
Called "program cars," rental companies often leased new vehicles for a six and twelve month period. Auto manufacturers took those cars back once their leases had expired, and then auctioned them off to other dealerships as used cars. With most of those automobiles having only 8,000 miles to 14,000 miles on them, they represented solid investments for anyone wanting to purchase them. [46] Annual revenues derived from leasing cars and trucks continued to grow following the Second World War. By 1963, it had surpassed the $750,000,000 mark on more than 600,000-leased vehicles. [47] Changes in the federal tax code, during the 1960s, encouraged this very smart business practice to expand even further.
By carefully reworking earlier leasing agreements, a resourceful Chevrolet sales representative Eustace Wolfington broadened existing arrangements in the 1960s. By appreciably lowering the required monthly payments, car leasing now appealed to many more customers than had been the case previously. Wolfington was not alone in his thinking. [48] Some Cleveland dealerships that soon recognized the many financial advantages of leasing vehicles to a broader customer-base included Central Cadillac, Don Jordan Chrysler, Freidman Buick, La Riche Lincoln Mercury, Marshall Ford and Pete Baur Pontiac. Typical of that group was Spitzer Leasing. It offered a number of top quality cars for lease including the latest popular compact autos such as the Chrysler Valiant, Ford Falcon and Chevrolet Corvair. [49]
The car leasing business continued to grow throughout the late 1960s right into the 1970s. A subsidiary of Cleveland-based Qua Buick, the Qua Leasing group had nearly doubled its business from 1967 to 1969. Its manager John T. Feighan attributed much of the company's recent success to a simple philosophy "something for everyone." In addition, his leasing group offered both evening and Saturday service, and its sales representatives made house calls to help customers choose the best possible leasing arrangement. [50] As of 1986, leasing represented 25% of all new domestic car sales. [51] Auto leasing reached even greater new heights in the following decade due to the escalating costs of new vehicles, and the fact that conventional lending practices became less and less appealing to money-strapped car buyers.
Leasing, rather than owning a new or used vehicle straight-out, afforded many customers the option of paying smaller down payments and lower monthly payments. [52] Those choosing such an affordable plan now had the opportunity of driving a more luxurious car with a wider array of desired accessories. [53] That had been next to impossible under traditional financing packages. Auto dealers also determined leasing arrangements for pre-owned vehicles as well. They based those leases on what they called "anticipated depreciation" the monetary difference between those cars when new vs. their value two to three years later. Late model vehicles depreciated much slower than new offerings.
Owning automobiles has been important to Americans since the early 20th century. The U.S. is a highly mobile society. Mass transportation once the primary people mover began to lose its commanding lead to automobiles in the 1920s. That gradual decrease in daily ridership only intensified after the Second World War. Overwhelming Congressional support for the National Defense Highway Act of 1956 sealed the fate of many bus and light rail carriers. The proliferation of new freeways and toll roads served to open up vast acres of land in outlying districts for innumerable commercial, industrial and residential purposes. The dramatic increase in car ownership, particularly noticeable in the 1950s and 1960s, encouraged major domestic car manufacturers to increase their production capabilities considerably. A constantly expanding car market led to extraordinary high profits for those domestic car makers who could meet those challenges.
Detroit's Big Three brought customer service to a new high level in the late 1990s and early 2000s when they introduced a new, hassle free way to ensure high quality used cars. The escalating price of new vehicles meant that many dealerships had amassed large inventories of pre-owned cars. By the Millennium, many buyers could no longer afford to purchase expensive new automobiles. However, they could purchase well-maintained used cars. Detroit's Big Three responded to this changing market by developing an approach that concentrated directly on purchasing quality used vehicles. Through specially developed new programs, such as General Motors Corporation Certified Used Vehicle Program, the Ford Motor Company Quality Certified Program and Chrysler Corporation Certified Program, Detroit's manufactures finally laid to rest the fears many potential buyers had expressed, over the years, regarding owning a used car. [54] Auto manufacturers assured them that all previously owned vehicles had undergone thorough inspections upfront. In addition, most pre-owned cars came with a 12-month, 12,000 mile limited warrantee and free roadside assistance. Increased competition from profitable independently operated superstores encouraged this more radical approach towards the sale and servicing of late model vehicles.
Policy guarantees on quality used cars did not represent the only new idea coming out of Detroit recently. Another exciting advertising technique to gain favor with the public was online showrooms. [55] About 6,000 General Motors dealers participated in this latest advertising program. The buying public now had the option of viewing nearly every General Motors vehicle available online. This new site not only furnished important details about the make and model of the cars displayed; but also, important information on similar automobiles sold by its chief rivals. It even provided the specific location of the vehicles in question. If that was not enough, General Motors also furnished online financial applications. That added service ensured the best possible deal with the least amount of complications. Beginning in October 1997, General Motors Buy Power appreciably improved the buying process for many consumers by encouraging them, not the sales representative, to set the pace for all future negotiations. [56] Detroit's Big Three admirably met the growing challenges presented to them during the second half of the 20th century much to the consternation of the few remaining independents who had to weigh their future prospects very carefully.
The more people purchased cars, the more the domestic auto industry produced. Under the watchful eyes of their manufactures, local dealerships pushed their customers even harder to buy more new and used vehicles, whether they could afford them or not. A wide range of factory incentives, individually designed discount packages and special year-end sales bonuses, provided the economic catalyst necessary to entice large numbers of potential buyers into their local distributors on a systematic basis. Those same dealers improved their changes for future sales considerably by offering high quality repair service. Carefully planned business strategies judiciously executed by manufacturers and distributors alike represented a win-win situation for all groups involved. Smaller independent automobile makers did not have such luxuries available.
From the 1940s to the 1970s, consumers and dealers profited greatly from similar amicable business arrangement. As was pointed out earlier, being the military and industrial leader of "the free world" gave domestic business leaders a decided economic and financial advantage over other, less fortunate leaders in other parts of the world. Sustained growth, fueled by relatively low annual inflation, appeared to work quite well in the U.S. What many of today's economists fail to mention in discussing that important business legacy is that such favorable economic developments did not just suddenly appear out of nowhere. A number of carefully articulated economic and monetary maneuvers, orchestrated, in large measure by the Federal Reserve Bank, from the 1930s to the 1970s, enabled the U.S. economy to continue to grow and prosper regardless of prevailing business conditions just beyond its immediate borders.
In terms of the automotive industry itself, post-war business could not have been better. Although new car prices may have increased slightly over time, most American families did not complain in that their annual incomes nearly kept pace with whatever was the prevailing inflation rate. That fact enabled most consumers to purchase enumerable commodities, including highly desirable new and used cars, on a regular, sustained basis. Several important economic factors converged to make that happen. Tightly monitored inflation rates, prompted by the Federal Reserve Bank and its member banks, in combination with moderate contract demands by organized labor, modest tax increases and a favorable balance of trade, resulting mostly from its favorable creditor nation standing, all but assured that this domestic buying frenzy would last for many years. That kind of highly favorable economic climate empowered the average family to not only maintain a highly desired standard of living amidst gradually rising prices; but also, enabled them to save a good portion of their weekly paycheck. The money they deposited in their local savings banks went towards personal needs ranging from paying-off college tuition or taking a much-needed vacation to procuring a better home or purchasing a new car. Whether purchasing a new vehicle outright, or through dealership affiliated financial services, the majority of Americans during the post-war years bought a new automobile every three to five years.
That three to five-year purchasing cycle persisted until the U.S. quit the gold standard in 1971. The recession of 1974 occurring on the heels of the OPEC oil embargo, initiated the previous year, played a crucial role in altering traditional car buying habits. The sudden spike in the price of virtually all items came as a shock to most Americans. For the first time in recent memory, economic and political forces, outside the immediate control of this nation's military and industrial complex, directed the course of development, often with disastrous results for U.S. consumers. The fact that the public could no longer purchase numerous products at ridiculously low prices did not seem to bother them much at least not at first.
The average American, of the mid-1970s, concluded that cutting back on purchasing non-essentials would be sufficient to counter escalating prices, at least for the interim. That kind of rational thinking might have worked well had escalating prices for commodities leveled-off quickly. However, when that failed to occur, many Americans soon found themselves in serious financial difficulties. Opinions, at that time, varied as to what steps the average person should take to survive this latest economic crisis. The onset of stagflation, a combination of rampant inflation and stagnation whereby the actual inflation rate is high, economic growth is sluggish and unemployment is high, posed a major monetary dilemma for many economists. They understood that any serious attempt to lower current inflation rates might exacerbate unemployment or visa-versa.
Characterized by double-digit inflation, deflation and high unemployment, the recession of 1974 had a far greater influence on the U.S. economy than was first expected. Prices on large threshold items, such as homes and automobiles, suddenly reached new record levels with no apparent end in sight. This inexorable economic downturn adversely affected most domestic businesses with the possible exception of a select group of very upscale retailers who continued to sell overly expensive merchandise to their wealthy patrons. However, few other businesses were immune from its devastating effects as the once reliable buyer's market dramatically reversed itself to become an impermeable seller's market. Any accrued debt, requires the individual responsible for that financial liability, to pay time-sensitive payments, which represent a combination of both principle and interest, until the entire debt is paid-off. That payment process continues unabated regardless of the borrower's financial condition at any given moment. Our capitalist system rarely demonstrates any empathy for those who might find themselves unable to pay-off their obligations in a timely fashion.
By the mid-1970s, the domestic auto industry found itself caught up in a real financial bind. In the beginning of the 1974 recession domestic car sales remained high. However, many shrewd analysts understood that this favorable business climate might not last much longer once the full brunt of the recession took hold. Throughout this economic ordeal, potential car buyers remained very much divided as to whether they should purchase new automobiles or not. Fearing the worst, some delayed their purchases, while others could not buy them fast enough. The latter group's hasty action represented a last ditched effort, on their part, to stave off future price hikes. Mid-1970s sales trends notwithstanding, long-range economic predictions then were anything but positive especially when it came to forecasting the future of the domestic automotive industry. Detroit's Big Three would have to change its business strategy now if it intended to survive these grueling economic times with their unexpected financial reversals. The major question posed to domestic automakers was how best to ensure a fair share of this dwindling market beyond the immediate future.
The majority of leaders in the automotive industry agreed on one thing namely the importance of developing effective new methods in which to ensure repeat business. Everyone in the industry concurred that repeat business would undoubtedly act as a major financial buffer against any unexpected changes that might yet unfold in the late 1970s or early 1980s. As to how to how the auto industry might achieve that desired end was anybody's guess. Conventional economic wisdom did not seem applicable here given the all-encompassing financial uncertainties affecting the U.S. business community especially in the mid-1970s. Further analysis forthcoming at the end of that decade strongly suggested that some kind of far-reaching leasing arrangement might hold the key to future industry-wide expansion and growth, especially if present market conditions continued to produce prolonged periods of economic and financial uncertainties. A winning economic formula during the post-war years for local businesses seeking fleets of affordable new cars, leasing might prove equally lucrative when applied to the buying public across the spectrum. The one caveat to all of this was that domestic dealerships must monitor such arrangements regularly in order to guarantee that those individuals leasing set vehicles fulfilled their financial obligations promptly.
Domestic car buyers soon recognized the many financial advantages of leasing quality vehicles. First, it would afford them the rare opportunity of driving popular automobiles at a fraction of the cost of straight-out ownership. Second, leasing would allow participants to return those cars to their respective franchises when their contracts expired, and then sign up for new models without having to deal with the hassles of trade-ins and repair costs on the heels of warranty expiration. Third, those leasing would pay accrued sales tax on a monthly basis and not in full at the time of signing. Fourth, the money those buyers would save in leasing a cheaper vehicle now would enable them to drive a more expensive car later. Domestic dealerships also liked this business arrangement in that it boosted sales numbers even during periods of harsh recession.
Furthermore, it did not disturb, in anyway, traditional customers who either paid cash for their new cars or finance them through conventional lending practices. Under this new agreement, dealerships reserved ownership rights to all the vehicles they leased. That meant that those dealers had two options available to them once a current lease had expired. They could lease that auto to the same person or someone else at whatever the going market rate might be at that time or sell it through vehicle remarking. Companies that specialize in selling previously leased cars, trucks and vans do remarking. They successfully sell former leased vehicles on the open market most often through special auctions or multi platform websites.
Auto leasing remains one of the surest ways to guarantee high volume sales for both domestic and import dealers. Leases apply to designated automobiles that are less than 10 years old and include a written guarantee from the franchise involved in the agreement. Documentary services and licenses along with security deposits, taxes and title records cost extra. Leasing in 2007 represented roughly 30% of total auto sales. That percentage will undoubtedly increase over the next decade as the prices of new domestic vehicles continue to rise. Like so many other leasing agreements, there are special fees imposed on early termination or excessive wear. Exceeding the allotted annual mileage, which is usually anywhere from 10,000 to 15,000 miles, may also result in an added charge. Meeting all service requirements is mandatory.
Leasing availability and options may vary based on the auto package involved. Approved customer credit determines the final APR offers. Financial services include both pre-determining monthly leasing charges and regular payment schedules. A typical APR payment averages somewhere around $20.00 a month for every $1,000 borrowed. Closed-end leases do not require a security deposit and allow 10,000 miles to 20,000 miles annually with a supplementary charge of $.25 per mile hereafter. Some deals may include a "dispensation cost" at the termination of the lease. That action, when applicable, eliminates the need for the customer and sales representative to engage in future negotiations upfront.
Many dealerships may require a substantial down payment and the first month installment, while others may not. Some may demand a disposition fee when the lease expires, while some may wave it. The final price may exclude freight and destination charges. In order to promote sales, during slower sales months, automakers may include their latest incentives and special offers. Those worthwhile incentive packages, presented by individual auto franchises to qualifying customers, are frequently time sensitive. More recently, many dealerships have started offering what they call "a lease to own loyalty" option. In order for a buyer to qualify for that option, another person in his or hers household must also hold a current lease on a vehicle sold by that same dealership. In many essential ways, current leasing arrangements closely resemble traditional car lending practices. Most auto leases run from two to four years, while some are as little as three months.
The past 150 years have witnessed many changes in the domestic automotive industry. A fledgling business, at the turn of the last century, with hundreds of manufacturers literally producing endless numbers of low, medium and high priced cars and trucks, the number of entrepreneurs, actively engaged in this industry, rapidly dwindled down to a few. Those few remaining determined the future course of development. Domestic producers did indeed set the standard of excellence worldwide for nearly 75 years. With the emergence of a more global oriented economy, by the mid-1970s and early 1980s, things changed quickly.
Domestic automakers increasing found themselves competing against a growing number of high quality imported vehicles. The fierce competition waged by both sides encouraged domestic auto manufacturers to produce even better vehicles. For domestic consumers it remains a bonanza to the present day. The modern-day world is definitely a buyer's market with enumerable choices available. Very much aware of the changing nature of this industry, domestic auto dealers are successfully adapting to this new global order. Today's buying public demands and receives much more from their local dealerships than just basic cars and minimum repair services.
The evolution of domestic automobile dealerships has not been easy or smooth. Formidable business challenges have presented themselves at each-and-every turn. The positive way in which the majority of dealers have handled those sensitive issues says a great deal about their dedication and professionalism. As one of the largest U.S. manufacturing centers for much of the 20th century, Cleveland, OH distinguished itself as an auto industry leader. The business strategies followed within that tightly knit urban setting closely ascribed to what was occurring on the national level at the same time. Using Cleveland domestic car dealerships as examples of innovation enterprises that had evolved successfully, within a highly volatile national economic climate, may afford us some valuable business insights into what course of action modern dealerships might want to take in order to keep their competitive edge in the future.
---