Large numbers of Americans spend innumerable hours daily in their many domestic auto dealerships. In fact, these authorized car outlets with their new, state-of-the-art showrooms and technically sophisticated repair shops afford their many customers a wide variety of important business services. They range from the buying, leasing and selling of cars, pickup trucks, sports cars, sports utility vehicles and vans to servicing nearly any kind of automobile found on today's city streets and rural highways. Unlike other, popular products sold directly to consumers in the open market place, domestic automobiles must undergo state-regulated licensing and special insurance procedures prior to sale. [1] In addition, the highly technical components and different hazardous materials found in today's vehicles require special care by qualified mechanics and specially trained diagnostic technicians on a regular basis. Financing an automobile in today's world also involves following certain procedures. All of these activities transpire within an efficient, pleasant working environment, a place that intends among other things to protect the buying public from the possibilities of retail fraud or personal liability.
Domestic dealerships successfully handle all the aforementioned business and legal obligations plus so much more. [2] An indirect outgrowth of the once profitable carriage trade of yesterday, modern-day dealers are a vital part of our accepted national business culture. Their positive approach towards both sales and service has been a keystone of this major industry from its inception. The buying public expects these business experts to provide them pertinent information on CUVs, sports cars, standard automobiles, SUVs, pickups, heavy-duty trucks and vans. Whether on commission or salary driven sales, their many sales representatives are committed to assisting their eager customers. Forgetting the innumerable jokes made over the years by comedians concerning the questionable honesty and integrity of dealerships generally, the vast majority of them provide the best available deals and highest quality service aimed at the broadest customer-base possible.
The increasing popularity of online, pre-owned automobile buying services notwithstanding, recent data indicates that franchised dealerships continue to break all-time records when it comes to selling both new and used cars. Apparently, customers still enjoy seeing, touching and test-driving the vehicles they are thinking of either leasing or purchasing. Many prospective buyers demonstrate great excitement as sales representatives describe the many features unique to a particular vehicle. Some customers also enjoy haggling over its price. For them, wheeling and dealing is much more than a game of wits waged between them and the sales representative. It is a hard-fought ritual, a part of the game, dating back to late 19th century horse and buggy days. Hagglers want to get their desirable vehicle at well below the initial asking price. Whatever the outcome of their efforts might be, one thing remains true local dealers graciously welcome thousands of customers through their doors daily.
This writing will focus on the evolution of the U.S. automobile dealership industry. From the start when informal, small outlets ruled it to today's modern sophisticated facilities, it will explore the changing nature of this important domestic industry, and some of the popular gimmicks and business strategies that served to distinguish one dealership from another as well as one manufacturer from another. This writing will refer to some of the major domestic automobile dealerships found in Cleveland, OH. These outlets will serve as examples of how major distributors have dealt with various business issues, problems and traditions occurring within this dynamic industry. The Cleveland perspective lends a personal aspect or touch to this highly competitive, and at times, seemingly highly impersonal business.
Cleveland, OH epitomizes a large domestic car market that has remained in the forefront of industry-wide developments for well over a century. Its unique relationship with this most important industry directly expresses the business needs and wants of a carefully nurtured, local customer base. The individual dealerships spotlighted in this writing truly symbolize a microcosm of industry-wide corporate policies, economic goals and financial objectives as played out on the local stage at crucial periods in this industry's illustrious history. This Great Lakes city has contributed greatly to its long-term success in very distinct, recognizable ways. In the early part of the 20th century, Cleveland vied with Detroit for manufacturing supremacy. Some of the leading automakers in Cleveland, before the outbreak of the First World War, included Baker Electric, Chandler Motor Company, Peerless Motor Car Company and Winton Motor Car Company. [3] All of these firms were top quality car producers that afforded a wide range of important services to an expanding buying public.
For example, the 1910 Baker Electric boasted that it could go anywhere in the city for an entire day without requiring an additional electrical charge. Its speed varied from 14 to 23 miles an hour. In the case of the Studebaker Electric, that South Bend, IN-based company offered a very special service plan beginning in 1908. Called the Studebaker Plan, it guaranteed free maintenance for its new electrics for one full year. That service also included the home installation of a special electric charger called a "rectifier." Additionally, the dealer, not the purchaser, would pay all costs incurred in recharging this vehicle for the first year. [4]
Apparently, the Kissel Motor Company received top awards at the Cleveland Auto Show of 1910, and why not? A mechanically sound vehicle built for both comfort and style, the Kissel appealed to those who could afford to own a quality luxury car.[5] Like so many others, the Kissel never lost sight of the importance of incorporating the most up-to-date mechanical innovations. Its 1923 version of its Custom-Built 6 featured a uniquely designed main frame, automatic oil control, bronze bushings on all moving chassis parts and thermostatic control of the cooling system. The growing financial success of the Chandler Motor Car Company convinced its Board of Directors, starting in 1914, to reduce the price on its popular 6-cylinder model to just under $2,000. That unprecedented action was part of a brand new profit sharing plan recently approved. [6]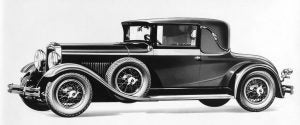 One of the major goals of the North Ohio Motor Company, a major Cleveland distributor of the Chandler Motor Car Company's line of quality automobiles, was to provide every one of their many customers with the kind of personal respect and top-notch repair service they so richly deserved. Its board claimed that their actions reflected the priceless reward for establishing good will.[7] The Peerless Motor Company enjoyed a similar reputation for excellence. [8] (Figure 3) In the case of the Winton Motor Car Company, its Winton 6 model for the 1912 model year highlighted a self-cranking motor and rear gasoline tank. Its many customers agreed that its service department at 1228 Huron Road was the finest repair shop available in the city.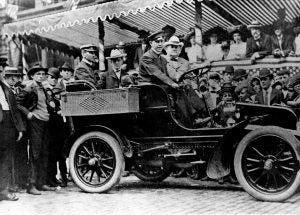 The list of Cleveland auto manufacturers continued to grow into the 1920s. Recent additions included the Abbott, Grant, Hal, Jordan, Owen Magnetic and Templar. [9] At that time, almost everyone in Cleveland had some kind of personal connection with this exciting new industry. Their many allied businesses produced a wide variety of parts and lubricants geared for the innumerable automobile producers. Those products ranged from axles, auto springs, beatings, carburetors and castings to crankshafts, grease, stampings, storage batteries and tubing. [10] Cleveland's fascination with the domestic automobile industry intensified as the 20th century unfolded. The city's passionate commitment to this budding industry never wavered even when Detroit eclipsed Cleveland as the number one auto manufacturer starting in 1908. The Great Depression of the 1930s may have curbed some of the Cleveland business community's earlier enthusiasm especially in terms of the possible high profit returns awaiting those who invested in this phenomenal economic prospect. However, any negative feelings did not last long. Perhaps the fact that Cleveland was one of the leading domestic steel producers and that major car producers such as Chrysler, Ford and General Motors employed thousands of Clevelanders, may have accounted for this area's renewed interest in this field beginning in the post-war years.
The city's love affair with the automobile reached a new crescendo in the late 1950s. The extraordinary increase in the buying and selling of all kinds of automobiles reflected Cleveland's economic prosperity at that moment. In fact, the number of local car dealers quadrupled from the 1920s to the 1950s. The appearance of new suburbs not only in Cuyahoga County but also, in adjacent counties, expedited by the completion of several interstate highways, led to the development of new commercial, industrial and residential districts in previously remote areas. Demand for new automobiles continued to climb into the 1960s. It represented the logical outcome of a cumulative business process characterized by both fantastic growth and seemingly unlimited economic opportunities for all involved. Industry-wide success set the stage for even further growth well into the late 1960s and early 1970s. Successful auto outlets soon learned the secret to continued economic growth. Increasingly, they focused their attention on certain kinds of customers found within readily defined geographical districts. Looking at some of the noticeable ways in which some Cleveland franchises affected the development of this important industry may afford us some valuable new insight regarding useful past business techniques that may still apply in today's world. Wise and effective business policies, along with sound economic and financial principles, transcend both time and space.
Much of Cleveland's 20th century economic growth stemmed from the amazing expansion of this industry. An insignificant part of the national economy when it first debuted in the 1890s, this very promising industry grew steadily to become a leading countrywide business force by the mid-1920s. Domestic auto manufacturing retained its supremacy within the local market place until the highly volatile period of the 1970s. It would take previously unimagined new economic forces to change virtually everything. However, losing some of its business power and economic luster, during the last three decades of the 20th century, has not prompted the demise of that industry, hardly. If anything, these monumental changes led to additional industry-wide growth within what has fast become an uncertain international scene. The domestic auto industry remains a major force in the world of business, where it continues to exert its influence in a variety of important and unique ways. The way in which it has accomplished this goal, throughout its long history, is of special interest in this writing.
---