General Motors initial development followed a somewhat different course from its chief rival Ford Motor Company. Unlike the practical-minded Henry Ford who followed a precise course of action to attain his many goals and objectives, William Crapo Durant (1861-1947), the founder of General Motors, represented a speculator of the first magnitude, a true wheeler-dealer in every sense of the word. Known as Billy, his flamboyant manner along with his somewhat unorthodox business practices often changed from one day to the next. He relied on his keen business instincts to see him through some very difficult situations. Through a combination of special start-up businesses and mergers, many of which were highly speculative in nature, Durant created a business empire like no other. He literally gained and loss millions of dollars over a course of a week. His colorful approach towards business may have dazzled the buying public in countless instances, but it did very little to calm the nerves of his conservative-minded investors.
Repeatedly, they demanded greater accountability from him especially when it concerned large, and sometimes, questionable business deals. Board members fired him twice for what they called irresponsible business behavior. However, a closer investigation suggests that Durant's non-conventional business approach, targeted towards creating and then sustaining a major domestic auto company, may have had more merit than was initially thought. That fact that he envisioned a worldwide car manufacturer that would not only outsell all its competitors combined; but also, set the pace for other automakers to follow for many years was truly brilliant. Regrettably, many early 20th century General Motors stockholders, led by conventional bankers and business leaders such as James J. Storrow, did not view his actions in such a positive light.
It took the ingenuity of a MIT graduate named Alfred P. Sloan to bring long-term financial stability to General Motors beginning in the 1920s. The complete opposite of his predecessor in temperament and very much aware of the fast-paced business world around him, Sloan prided himself on his innovative approach towards manufacturing and marketing. As the automotive industry moved forward so did General Motors. Alfred Sloan continued to play a foremost role in this highly successful corporation for over three decades. His intimate knowledge of the inner workings of this company, in combination with his ongoing analysis of both its business and corporate governance principles, ensured that General Motor would remain a prominent automaker. The initiatives that distinguished him from his competitors revolved around such things as highly innovative finance packages and a host of other special incentives targeted towards increasing new car sales quickly. For example, his insistence on establishing price guidelines for each of his passenger car divisions, determined by customer income levels, was a true stroke of genius. Topping that off with a wide assortment of dazzling color combinations, various engines and markedly different body styles symbolized an astute move second to none.
However, much of the credit for establishing General Motors highly successful distribution network did not rightfully belong to either Alfred P. Sloan or his well-respected brain trust. Some of the credit belonged to the corporation's founder Billy Durant He set the stage for General Motors successful national network of dealers when he convinced 13 Buick dealers, early on, to join his growing company through special franchise arrangements. (Figure 106) Unlike Henry Ford who closely monitored nearly every business move made by his many dealers, Durant afforded his distributors a great deal of leeway especially when it came to handling everyday business matters. He only interfered when a dealer no longer generated sufficient profit returns. A showman by both trade and temperament, Billy Durant continually encouraged his many dealers to cultivate the largest possible customer-base possible within their respective districts. He not only reinforced the idea of employing any and every business tactic available to ensure a new car sale; but also, insisted that his many distributors offer the best possible repair service. Durant firmly believed that such persistence would inevitably result in repeat business. Furthermore, satisfied customers would advertise the many advantages of owning and operating a General Motors automobile or truck better than anything his talented marketing experts might devise to promote their many products and services. In his mind, that kind of unsolicited advertising was priceless.
Those early franchises lacking Durant's keen business insight did not remain in the company for long. Fully understanding the important role played by enthusiastic distributors, during the initial development phase, Durant continually reminded them of several of his top business concerns. They included finding the best available site for their new outlets and recruiting the best possible workforce all at a reasonable cost. General Motors Board members especially liked the idea that individual dealerships and not executives at headquarters would assume the bulk of the debt related to daily operations. The staggering debt resulting from large new car inventories has not changed greatly over the years. In fact, it remains a sore point for most dealers to the present day. The majority of affiliates are required to stock a minimum of two to three month supply of new cars on site, and that excludes used cars that by 2010 had exceeded $6,000,000. Over 8,000 owners operate more than 18,000 dealerships nationwide according to a recently conducted study. Of those 8,000, more than 50% own more than one auto site. As of 2018, they provided more than 1,100,000 jobs last year and their total investment in buildings, infrastructure and land surpassed $2,000,000,000.
Much like his primary competitor Henry Ford, Billy Durant wasted little time before hiring qualified sales representatives for his dealerships. Designated dealers not only trained their staff on the fine art of salesmanship; but also, obtained a great deal of their-own working capital. Successful retail entities from the start, most dealers soon operated more than one affiliate often within the same locale. However, nothing established by Durant in the early years remained permanent. Alfred Sloan modified the corporate policies initiated by Billy Durant once he took over the corporate helm.
A very resourceful leader with an impressive record of business successes, Sloan's approach towards sales and service definitely changed over time based on the growing need to redefine primary customer needs and wants. Seeing an opportunity to surpass Ford Motor Company as the number one domestic automaker, in the late 1920s, convinced Sloan and his closest associates to set aside previously held business convictions. His more flexible business approach called for even stricter accountability from the rank-and-file. A truly unified company, with well-articulated business goals and reasonable objectives, stood a much better chance of surpassing Ford Motor Company than a disorganized company pursuing a number of seemingly unrelated schemes.
Throughout the 1920s, Alfred Sloan acclaimed the financial success of American Telephone & Telegraph and Standard Oil of New Jersey. In particular, he respected their dedicated workforces. Each division within those tightly run organizations knew its responsibilities and carried them out to the fullest. Most importantly, their well-trained supervisors and competent managers encouraged their employees to do the very best possible job each-and-everyday. They accomplished that formidable task by offering a multitude of monetary and personal inducements. Well-disciplined companies, with realistic business aspirations, both American Telephone & Telegraph and Standard Oil of New Jersey had overcome formidable business challenges to become the undisputed champions within their respective business endeavors. Sloan liked that idea very much.
The first step taken by General Motors Corporation towards achieving that desirable business end began when it purchased the few remaining independent distributors, and then sold those same prized franchises to specific business leaders who had been groomed for that undertaking. The second step involved expanding the current used car market. Like Ford Motor Company, General Motors had always graciously accepted trade-ins as part of most new car transactions. However, neither company, during their formative years, ever considered the used car market worth pursuing to any extent. Sloan's attitude in that regard changed dramatically once he discovered that properly maintained used cars sold well everywhere in the open market regardless of the current economic conditions. In the mid-1920s, he firmly believed that General Motors must somehow begin to take more advantage of the used car market as a way of cutting even further into Ford's sizeable sales lead.
Alfred Sloan rightfully concluded that customers with modest incomes might welcome the opportunity of purchasing a lower priced, reconditioned late model car from their nearby General Motors dealership, rather than, investing their hard earned cash into a plain Model T from their local Ford outlet. As was pointed out earlier, the cost differential between the two cars was marginal. In addition, General Motors dealership lots, full of top quality used cars, might serve as a magnet bringing in large numbers of potential buyers. Once inside, those same customers might decide to skip the used car section entirely preferring to purchase one of the new General Motors models instead. It was certainly worth the try on both accounts. In the event that a prospective customer should decide to purchase a new General Motors automobile, rather than one of its many quality used car, then the dealership was fully prepared to make his or hers dream become an immediate reality. Through Sloan's carefully groomed financial branch called General Motors Acceptance Corporation (GMAC), local dealerships assisted thousands of customers in purchasing new vehicles. Ford Motor Company claimed that it did not need to offer that kind of direct assistance to its many ca buyers. Dearborn officials insisted that most of its buying public could easily afford to purchase one of their new, low priced automobiles. However, the ability of most people to purchase a new vehicle outright, without some financial aid, was about to come to an abrupt end. The 1920s experienced a marked increase in the price of most domestic automobiles. That price increase did not escape the attention of shrewd buyers who wanted some form of financial help from local lenders. In fact, 75% of all domestic car purchased in 1925 required some kind of outside financial assistance.
Another equally puzzling business dilemma to unfold at that time concerned the accuracy of recording and projecting annual retail sales. Submitted by dealerships and wholesalers alike to their respective factories, those projected sales numbers became the basis for determining next year's production schedules. Accuracy varied greatly depending on the accounting methods employed. Officials at General Motors admitted that the many inaccuracies, found in those annual reports, were due to shoddy business practices. However, no one at the corporate level had been successful in developing a better plan, that is, before the arrival of Donaldson Brown. A finance expert on loan to General Motors from the DuPont Corporation, Brown wasted little time before devising a more accurate way to project future new car sales.
From the outset, Brown recognized the importance of redefining what exactly constituted optimum production capacity for General Motors in any given year. He had learned that important lesson while working at DuPont. Furthermore, he knew that General Motors leaders must achieve a high degree of business sophistication quickly if they intended to earn substantially higher profit returns in the near future. Accurate projections of future new car sales, based on honest evaluations of recent performance, would undoubtedly assist board members in determining future corporate governance policies or business procedures.
A brief downturn in the stock market, following the First World War, rapidly brought that issue to a head. Significant losses had demonstrated the importance of replacing outmoded accounting procedures with new efficient methods as soon as possible. With that idea firmly established in their minds, General Motors executives, under the careful direction of the experienced Donaldson Brown, began the grueling task of developing a new, more accurate accounting system. Part of this new precise strategy required dealers and wholesalers to submit comprehensive sales reports to corporate leaders every ten days, not just once a year. At the same time, this efficiency expert carefully monitored current market trends and daily new car sales activity within specified districts. He relied greatly on a combination of respected in-house and government resources to guide him through that most exhausting process.
Part of this new, comprehensive approach towards business involved the hiring of an independent consultant called R.L. Polk and Company. That consulting firm not only regularly collated the submitted materials; but also, printed all scheduled reports within ten-days of receipt. It also followed through with its many contract obligations that included distributing all printed results industry-wide. Divisional managers and individual General Motors franchises often compared and contrasted their findings before preparing their final sales projections. Brown's new approach that called for formulating accurate annual production forecasts, based on documented sales performance meticulously complied over the previous 12-month period, vastly improved overall corporate efficiency quickly. It also encouraged Alfred Sloan and his remarkable group of advisors to adapt a similar working business strategy for all five domestic passenger car lines.
Striving to maintain high profit returns on both short and long-term prime investments, through carefully screened accounting procedures, became the rule, not the exception, at General Motors. Alfred Sloan added his own personal touch by periodically visiting his many dealerships. Those unexpected visits furnished a wealth of information not easily attained through less direct means. The data collected from his on-site visits served as the basis for Sloan's detailed reports, the same reports that he distributed regularly to dealers and wholesalers alike. Like its other Detroit rivals, General Motors, throughout the 1930s, hosted special closed-door sessions for its many dealers. Those gatherings focused primarily on new and effective ways in which to guarantee high new car sales in the future. One gathering in May 1936 went beyond the accepted norm by detailing new pertinent ways in which to increase used car sales. [1]
The national economy had started, ever so slowly, to rebound that same year, and General Motors responded by gradually expanding its production capabilities. That action, at that crucial juncture, not only set the stage for increased auto and truck sales over the next four-year period; but also, encouraged the establishment of several major education programs geared specifically for their most promising employees. The Board of Directors believed that such education programs would help to ensure General Motors sales lead in the future. With that thinking in mind, the board approved a detailed new training program directed towards Chevrolet mechanics in 1941. Those highly valued workers had to pass a 50-part quiz at the conclusion of their six-week training session in order to be certified. [2]
That rigorous training program resumed at the end of the Second World War. Now known as the "West Point of Industry," it drew workers from around the world. [3] Enrollees studied a variety of useful subjects that ranged from the latest accounting procedures, effective management skills, special sales promotion techniques and modern service procedures to successful advertising techniques, revised distribution methods, available financing packages and efficient mechanical operations. Its intense curriculum closely resembled some of the finest business programs offered at our nation's most prestigious colleges and universities. Participating dealers handled all expenses incurred by their enrollees.
With the intention of further widening the new car sales gap between General Motors and its competitors, Chevrolet General Sales Manager T. H. Keating announced a major new sales campaign for September 1947. Called "Bring Them Back to Chevrolet," this extraordinary publicity effort not only drummed up additional business for its repair shops; but also, promoted its many quality auto parts. [4] This campaign involved more than 75,000 employees representing thousands of dealerships. However, General Motors did not limit its efforts to slick new promotions. It also expanded its customer base by going the extra distance. In this instance, handicapped veterans were encouraged to buy specially equipped General Motors automobiles at manufacturer's suggested retail prices. Both Ford and Chrysler also offered similar programs; however, they took much longer to process those orders than was the case at General Motors. Detroit's leading automaker also announced that it would speed up new orders for returning service men and women whose job requirements warranted such quick action.
Post-war promotions, like that, paid-off for General Motors as new car sales continued to soar for the Detroit giant well into the 1950s. Its revamped lineup of beautiful cars caught the public's fancy immediately. During that period, General Motors executives placed special emphasis on its three mid-priced auto divisions Buick, Cadillac and Oldsmobile. (Figures 107 & 108) To illustrate this last point, the eleven Greater Cleveland Buick dealers in 1948-49 offered large numbers of fully redesigned new cars. Their advertisements highlighted the all-new Buick Dynaflow automatic transmission along with its "taped through styling," quadraflex coil springs and safety ride wheel rims. That same year, Cadillac and Oldsmobile divisions introduced their own versions of the "Rocket 8 Engine." A high compression, 8-cylinder engine known for its speed and fuel efficiency, the Cadillac Series 62, and the Oldsmobile Futuramic 88 and 98 models won several major auto races with them. [5] General Motors continuing successes throughout the 1950s meant a far more lucrative used car market than had been the case prior to the war. [6]
To illustrate this last point, Greater Cleveland Buick dealerships, in 1953, not only provided quality, reconditioned used cars at a fair price; but also, offered a 30-day guarantee on a wide selection of those same vehicles. La Riche Oldsmobile, at 1331 West 117th Street, announced immediate financing and quick delivery on all used cars purchased by out-of-town buyers. [7] General Motor's Cadillac division encouraged its many affiliates to be as innovative as possible. Cleveland's Central Cadillac took that suggestion to heart and introduced a new customer service option starting in 1954. [8] Referred to as Mobile Home Service, Central Cadillac car owners no longer had to service their vehicles at its Carnegie Avenue location. Instead, a certified mechanic could perform the same quality auto repairs at that patron's home. Two years later, this highly enterprising distributor took the concept of customer service to an entirely new level when it established the Prudential Finance Company. That company financed thousands of new vehicles.
General Motors regularly informed its many distributors on the latest business trends affecting the industry nationwide. As part of its long-term commitment to employee education, the Board of Directors, in 1953, approved 35 new training centers including one in Parma, OH. [9] Each one of those centers featured a large auditorium, modern cafeteria, efficient kitchen and ample classroom space. The mid-1950s saw the re-appearance of the very popular dealer committee system. First established in the late 1930s, this forum enabled corporate heads and dealers to discuss the many business and technical problems stemming from recent corporate inspired expansion efforts.
One such session, held in May 1957, concentrated on the increasing number of maintenance problems plaguing many General Motors new car owners. Those discussions concentrated on important issues such poor mileage and premature wear-and-tear. This committee spearheaded a number of important new efforts dedicated towards improving recent quality issues. (Figure 109) Inspired by those sessions, General Motors officials sponsored a number of special promotional activities and events to entice more customers into their local General Motors dealers. Events such as Automobile Week demonstrated this new cooperative spirit as exhibited by Detroit's number one car maker. Staged events, both big and small, throughout the summer of 1957, played a deciding factor in convincing many skeptics to purchase their new vehicles now; rather than, wait for the next model year when prices would undoubtedly be much higher.
That business optimism, conveyed by Detroit automakers to potential new car buyers throughout the first half of 1957, rapidly turned to pessimism as the national economy soured. The recession of 1957-58 forced all the leading Detroit automakers, including General Motors, to modify earlier marketing strategies. Repeatedly, they emphasized the phenomenon savings awaiting buyers who purchased their new vehicle during the present economic slump. Unfortunately, the actual cost of buying most of those new cars was often higher than its advertised price. Misleading advertising, like that, did not escape the attention of the National Automobile Dealers Association who repeatedly warned its members not to emphasize lower car prices when, in fact, it was untrue. Furthermore, deceptive advertising not only violated the NADA's carefully worded "Statement of Advertising Principles;" but also, harmed this organization's credibility with the public. [10] Starting in the spring of 1959, some very shrewd dealers began using factory suggested list prices as their guideline when determining their-own new car pricing. [11]
A specially issued insurance bond guaranteed that participating dealerships would no longer over inflate the prices of their new vehicles with the intention of providing higher trade-in allowances on their used vehicles. This new, more ethical approach towards negotiations worked quite well for Detroit's Big Three right into the 1960s. Nowhere was that more evident than at Chevrolet. In 1965, that division had successfully retained its industry-wide lead by producing 1,456,504 passenger cars and 337,693 trucks. [12] (Figure 110) Other General Motors divisions, such as Buick, Oldsmobile and Pontiac, shared the new car sales lead in the prestigious middle price field. The debut of the Buick Riviera in 1963, starting at $4,333, represented General Motors response to the highly popular four-seat Ford Thunderbird. (Figures 111 & 112) Buick sold over 112,000 of that model in its first three years. In the case of the Oldsmobile, the plush Toronado, at $4,617, became the talk of the automotive world in the mid-1960s. (Figure 113)
Introduced in 1966, this powerful luxury vehicle soon became a leader in the fast growing market of exciting new domestic cars. The fact that Toronado symbolized the first full-size, front wheel drive vehicle made by Detroit's Big Three in nearly three decades instantly set it apart from other middle priced automobiles of that time. Oldsmobile manufactured about 41,000 units during its first production year. [13] The 1967 full-sized Oldsmobile continued that tradition in manufacturing excellence by offering a wide array of special options such as a new front disc braking system, special climate control system, stereo tape player and UHV transistorized ignition system. [14] (Figure 114) The popularity of the newly redesigned Oldsmobile Cutlass led General Motors to offer numerous new factory incentives for those choosing to purchase that particular model.
Greater Cleveland Oldsmobile dealers including Leikin, Dowd, Gene Norris, Reliable and Zalud, continued to advertise a host of factory rebates on their very popular Cutlass models through the mid-1970s. (Figure 115) For example, in February 1975 they promoted a number of special incentives worth anywhere from $200 to $500 depending on the model involved. [15]The 1960s represented a period of extraordinary car sales for General Motors Pontiac division as well. It all began with the introduction of the brand-new wide track Pontiac Catalina series in 1959. That highly stylish, mid-priced model shared "A" body panels with Buick, Chevrolet and Oldsmobile. The buying public, without a doubt, enjoyed the more luxurious Pontiac. Its new car sales continued to grow reaching a record high of 800,000 new car sales for the 1965 model year. Total sales that year placed Pontiac in 3rd place just behind Chevrolet and Ford. (Figure 116)
General Motors incredible national dealership network accounted for much of its unprecedented financial success throughout the 1960s. Viewed as essential in the successful operation of any distributor, specially trained supervisors worked closely with their sales representatives and mechanics to ensure the very best deals and highest quality service. Corporate leaders at General Motors also hired competent women for several key positions within their expanding organization. The initial opposition to their appointments, expressed by some in this previously male dominated industry, gradually lessened as these women repeatedly demonstrated their leadership skills.
Safety had always been a great concern at General Motors and no more so than in the 1960s. The growing number of fatal car crashes resulting from the improper use of the steering wheel led E. M. (Pete) Estes of Chevrolet, in May 1966, to issue a new booklet dedicated to that very issue. [16] Available at local Chevrolet dealerships, it described the proper way in which a driver should hold the steering wheel. Part of a much broader, national safety campaign this booklet set the stage for other corporate sponsored events and programs directed towards better educating the public on the importance of driving safely. In the 1970s, General Motors reinforced the idea of safe driving by sponsoring the Soap Box Derby clinic. [17]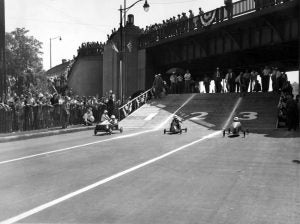 In another very bold business move, General Motors executives, during the late 1960s and early 1970s, began to recruit prominent African Americans to serve on their Board of Directors. The highly respected Reverend Leon H. Sullivan was one of the first African Americans to join that august group. He hoped his direct participation on the board might encourage its membership to increase the number of black owned dealerships and sales representatives significantly. He also wanted more black involvement, as both faculty members and program enrollees, in the highly acclaimed General Motors Corporation Institute. Most General Motors administrators, engineers and technicians regularly participated in this special four-year program. [18] With the help of Reverend Sullivan, the number of blacks entering that educational institute's freshmen class soared from 10 in 1971 to 250 in 1972. Regrettably, the same thing did not occur when it came to expanding the number of black salaried employees within the corporate structure. Their number only increased from 3.2% to 4.1% during that same one-year span.
The increasing number of customer complaints regarding the poorly built cars and trucks emanating from Detroit's Big Three, convinced General Motors of the importance of expanding its warranty programs. In March 1972, General Motors unveiled its all-new 12 months or 12,000-mile coverage. Extended for an additional 90 days, this new and improved protection plan would cover virtually all auto defects, malfunctions and repairs. [19] Other proposals discussed by corporate officials, at that time, included such things as extending dealership business hours and offering customer special valet service. The following February, the Board of Directors not only promised additional dealer training regarding the proper use of its latest, high tech equipment; but also, planned to establish regularly-scheduled meeting times between customers and service representatives where they could discuss any outstanding complaints concerning their vehicles. If those meetings failed to resolve the problem to the satisfaction of the owner, then the customer could phone or write that area's zone office for further assistance. In the event that those higher-level discussions produced nothing then the car owner had the recourse of contacting the Divisional Owner Relations Office for further help. [20]
In March 1974, General Motors Buick Division unveiled its own unique program aimed at educating women drivers on proper car maintenance and the role played by local dealers in expediting that effort. [21] Later that same year, corporate executives offered more than 12,000,000 General Motors car and truck owners the chance of having their vehicles inspected by their local dealers at absolutely no cost to them. Cars built between the 1969 and 1972 model years were eligible for this special check-up. [22] Board members viewed it as an effective way in which to bring car owners back to their General Motors dealerships. A groundbreaking idea it did not result in any appreciable new car sales for the number one auto producer. Dwindling profits and growing new car inventories led General Motors to withdraw its support of the Soap Box Derby. However, the corporation continued to sponsor the "Award for Excellence" program. It offered prizes to the ten top high school winners who participated in the International Science and Engineering Fair. Each winner received a sterling silver metal, a certificate of recognition, a congratulatory letter from General Motors Chairman Richard C. Gerstenberg and U.S. savings bonds worth $125. [23]
The recession of 1974 devastated the domestic automotive industry as the number of franchises decreased by more than 500. [24] That symbolized the greatest drop in outlets in recent memory. Part of an overall decline in domestic new auto sales that bridged nearly two decades, Detroit's Big Three now had to contend with a very formidable new business challenge. They must devise some effective new car sales techniques immediately if they intended to fight off the mounting competition posed by successful import cars. Part of General Motors latest strategy called for the elimination of 110 more distributors. Lack of substantial new car sales due in part to growing fraudulent activities by unscrupulous dealerships led to this board decision. The submission of fake warranty claims was evident throughout the industry by the mid-1970s. [25] Executives at General Motors considered such fraudulent behavior blatant examples of wholesale corruption at a time when Detroit's number one automaker and its many affiliates should have been working together to improve their company's bottom line.
In November 1976, the Board of Directors launched a new in-house incentive program geared specifically for low volume dealers. This special $18,000,000 effort emphasized the importance of selling vast amounts of automobile accessories and parts rather than stressing just new car sales. [26] That program began with a national publicity campaign featuring Mr. Goodwrench. [27] Those promotional efforts underlined the importance of properly maintaining your car, which included, among other things, using certified General Motors mechanics and genuine General Motors parts for all repairs. A new, highly informative General Motors Corporation Diagnosis and Repair Manual was part-and-parcel of that national endeavor. This manual not only dealt with some of the most common problems affecting new car owners; but also, detailed the electrical and technical systems found in most General Motors models of that era. [28]
In an attempt to bolster lagging new car sales, General Motors, in the summer of 1979, introduced a host of other new in-house incentives targeted towards their sales representatives. Detroit now paid dealers anywhere from $200 to $750 for any full-sized General Motors model they sold. [29] One of Cleveland's leading Chevrolet dealers Ed Stinn, wanting to take full advantage of that in-house promotion, began selling brand new Citation, Monte Carlo and Monza models for as low as $50 down and $106.15 a month. (Figure 118) With an annual interest rate of 13.65%, that special loan package covered a 48-month period. [30] A deft sales ploy, it did not work well. New car sales continued to decline throughout the spring and autumn of 1979. In May 1980, General Motors reported a 33% drop in new car sales over the previous year. A number of Cleveland Buick dealers tried to stimulate sagging new auto sales by offering a host of desirable options free. For example, Spitzer Buick provided air conditioning, an AM-FM Stereo radio and a vinyl roof for no extra cost. [31] The Spitzer Auto Group offered an additional $1,000 to $2,000 for all trade-ins regardless of their condition starting in October 1980. [32]
That same year, NADA appealed to the White House for financial assistance. [33] Specifically, it hoped to safeguard new car inventory financing from possible imposed credit restraints. NADA officials also sought federal help to establish a safety net that would encourage banking institutions to increase, not decrease, the amount of funding available to local dealers through the Small Business Administration (SBA). In addition, NADA hoped that federal intervention might serve to override present state usury laws. The Federal Reserve Bank's announcement in October 1980 that called for raising prime interest rates to member lending institutions compelled the leaders at General Motors to do just the opposite. Its Board of Directors decided to lower, not raise, current interest rates on some of its car loans. They hoped that such action might serve to lessen its new car inventory debt appreciably.
Affiliates now paid 12 ½ % interest rates on inventory-held new car models with General Motors picking up the difference between that established interest rate and the current prime rate. [34] That decisive move would enable dealers to display more cars in their showrooms. Unfortunately, General Motors limited this offer to only 120-days. In January 1981, its leadership asked Washington officials for an indefinite moratorium on all pending federal regulations directed specifically towards the automotive industry.[35] It also requested the repeal of the federal tax imposed against those vehicles that are not fuel-efficient along with the temporary suspension on all federally mandated fuel economy standards. Desperate times required desperate measures, or so thought the NADA at that moment.
Corporate executives argued that the recent plunge in new car sales warranted such far-reaching action. In January 1981, General Motors also announced the elimination of an additional 55 distributors over the next six-month period. [36] Unfortunately, that did not halt the slump in new car sales, which continued unabated into the next model year. A 12½% sales drop from January to June 1982 forced the closing of another 135 outlets. [37] General Motors now operated 10,925 dealerships throughout the country. The fact that the number one Detroit automaker still controlled nearly 50% of the total domestic car market served as a bulwark against further sales declines. The small amount of debt it had accrued in recent years would enable this major corporation to remain financially in the black for a while longer. [38]
Hoping to reverse this steep decline in new auto sales, board members, in August 1981, unveiled a new finance package that featured an interest rate of 13.8%. [39] Over the next several years, General Motors not only improved the overall quality of its many vehicles: but also, started offering a wide array of highly desirable, reasonably priced accessories. High tech radios topped that list of new options. General Motors Delco Electronics division, in partnership with the Bose Corporation, invested $12,000,000 to develop a new, state-of-the-art surround sound system. [40] Their efforts resulted in a finely tuned, high quality AM-FM stereo radio that included a built-in cassette player. First introduced into General Motors cars, in the autumn of 1982, the public loved it.
Further belt tightening, in the mid-1980s, paid off for the number one domestic carmaker. Dramatically reducing its new car inventories, while only slightly raising its prices, enabled this automotive giant to survive the recession of 1985. In fact, General Motors modest price hike of 2.9% led to a surge in new car and truck sales for the next several years. [41] Corporate net earnings for 1988, which had increased by more than 50% over the previous year, reflected that significant sales increase. [42] Net earnings that same year topped $1,510,000,000 or $4.52 a share as compared to $980,000,000 or $2.80 in 1987. New financial packages with interest rates as low as 2.9%, coupled with growing new car sales worldwide and a quick turnaround time on loan applications, enabled General Motors to achieve its ambitious new sales goal. However, it was more than traditional automobile incentives that encouraged large number of customers to visit their General Motors showrooms. It went far beyond just that. For example, those Cadillac owners who received General Motors Acceptance Corporation (GMAC) issued preferred customer letters, in the winter of 1985, now had the unique prospect of trading-in their late model Cadillacs for brand new ones without having any additional monthly payment charges. [43]
In the early 1990s, General Motors top brass offered a unique deferred bonus plan for its many long-standing new car sales representatives. Under this new special arrangement, those sales representatives that remained at the same General Motors dealership through 1995 would get an additional $50 bonus for every new automobile they sold, while Cadillac sales personal would receive an extra $125 bonus. [44] The board at General Motors hoped that this new incentive package might stem a growing tide whereby sales representatives moved from one dealership to another, often without warning. The annual turnover rate for salespersons, from the late 1980s to the early 1990s, averaged anywhere from 35% to 50% depending on the dealership involved.
A drop in the prime interest rate, during the second half of 1991, enabled General Motors to offer a select group of new car buyers a special 2.9% interest rate. Unfortunately, this new, lower interest rate did little to stimulate slumping new car sales generally. The one exception to this rule occurred within the Pontiac division where new car sales activity was very brisk. The 20th Annual Master Dealers conference, held in 1991, awarded nearly 100 affiliates the coveted "Pontiac Master Dealer Award." [45] That honor went to those franchises that not only had achieved their annual sales quota goals; but also, had received equally high marks for their quality customer service. In an attempt to improve new car sales in 1993, many distributors embraced a different marketing strategy called "one price shopping." [46] Of course, the concept of one price shopping was not entirely new. Many dealerships had used that tactic before. In the case of the Buick division, its dealers had utilized that particular strategy repeatedly in automobile shows as part of a broader presentation called "New Test Drive Theatre." While enjoying a simulated ride in an Indianapolis 500 racer, those same visitors heard about the many advantages of purchasing a new automobile through Buick's one price program.
In October 1993, General Motors announced that its popular Mr. Goodwrench program would soon include the installation and repair of car mufflers and exhaust systems.[47] Local garages had dominated that part of this multi-million dollar business for years. General Motors thought the time had come for it to offer factory-fresh mufflers and exhaust systems at affordable prices. The corporation also unveiled plans that called for computerizing its many service centers. The installation of computer chips in newer models, along with growing federal pressure to tighten pollution controls on its vehicles, hastened that decision. The growing complexity of technically advanced cars and trucks required an entirely new level of sophisticated maintenance. Board members believed that many small repair shops were unprepared to handle such complicated high tech issues; however, General Motors extensive network of high quality dealers could easily meet those growing business challenges. [48] At the turn of the 21st century, escalating prices significantly altered traditional buying habits. As was pointed out earlier, the domestic market for pre-owned cars had increased greatly over the previous two decades, while the market for new vehicles had dropped appreciably. That sudden reversal in economic fortunes did not surprise shrewd automotive experts who had been expecting that to happen for years. It symbolized the culmination of a series of major economic changes that had grown in both intensity and scope over the years.
Major recessions, first in 1974 and again in 1985, not only accelerated prime interest rates; but also, tightened credit. The subsequent business reverberations, due to those unparalleled economic developments, incredibly affected the behavior of car buyers at the time of the Millennium. Many middle class car buyers, no longer able to afford the latest, high priced domestic vehicles, looked for viable options. That led many of them to lease, rather than own outright, their favorite vehicle or investigate the possibilities of purchasing late model cars, trucks and vans instead. The latter group soon determined that top quality, low mileage used cars only cost about half the price of brand new automobiles.
It made perfect sense to buy top-rated, pre-owned cars, and thousands of General Motors dealerships nationwide wholeheartedly endorsed that idea. In fact, used car and new car sales were nearly equal by 2005. Detroit's Big Three responded by establishing their-own rigorous used car standards for their many affiliates to follow. In addition, they increased the appeal of owning used cars by providing their buyers a host of very desirable factory incentives that included such things as lower finance charges and extended warranty protection. Reconditioning, pre-owned vehicles did indeed become a top priority for General Motors as the number of used cars sold through its many affiliates increased considerably. Its introduction of the all-new Certified Used Vehicle program, in August 1997, followed by an extensive $30,000,000 advertising campaign, that carefully weighed the economic advantages of owning and operating pre-owned cars, certainly caught the public's attention. Eliminated most of the risks equated with owning a used vehicle did a great deal to boost sales. Today's dealerships have taken that earlier thinking to an entirely new level. Cleveland's AutoNation franchises, for example, buys used cars without the seller necessarily purchasing another vehicle from them. That same automotive group prides itself on its-own special one price, pre-owned car deals. Their sales representatives gladly handle all the paper work that pertains to the purchasing and operating of late model vehicles. That effort includes checking the condition, history and odometer reading of the auto involved. [49]
The rediscovery of this lucrative market for pre-owned vehicles notwithstanding, the continual slump in new car sales experienced by General Motors, from the 1970s to the 1990s, had a very pronounced effect on how the number one domestic auto producer would conduct business in the future. In an attempt to cope with those increasing losses, General Motors officials announced, in September 1995, their plans that called for streamlining their entire business operations. Growing new competition posed by import carmakers had undermined its previous insurmountable sales lead. If the company intended to survive this latest encounter, General Motors must eliminate many of its low volume distributors, while, at the same time, relocate others to potentially more profitable areas.
Corporate plans called for the gradual elimination of 18% of its total dealerships over the next five-year cycle. [50] That action would have decreased the number of its dealers nationwide from 8,500 to 7,000 by 2000. Part of that effort also would result in the closing of many outmoded, inner-city dealerships and replacing them with new, modern outlets near freeways, shopping centers and malls. Recent sales figures, current physical condition and projected new car sales, over the next three to five-year years, most often would determine the fate of low volume dealerships. Experts in the field expected Ford and Chrysler to follow suit, which they did to a limited extent. Further business losses during the Millennium forced the majority of General Motors affiliates to stop selling other, competing brands. In addition, an executive order, issued in 2001, announced the end of combined Cadillac and GMC Truck dealerships in more remote districts. [51] That order further stated that those distributors selling more than one General Motors brand must begin to emphasize one division over another immediately. The Millennium saw this corporation heading into an entirely new business direction with the introduction of its-own computer-generated showrooms. Under this specific arrangement, each-and-every model, found in the company's five domestic passenger car divisions, would appear on that website.
This new website not only compared General Motors automobiles with its chief competitors; but also, provided unencumbered access to its latest new car inventories. In addition, it welcomed buyers to not only apply for auto loans directly online; but also, set up test drives. They could even talk to a sales representative, if they liked, about a certain car model. This new computer service represented an upscale version of an earlier online service called "GM Buying Power." The fact that about 30% of all buyers relied on various websites, like this one, to collect pertinent data and information regarding the leasing or purchasing of an auto made it an important new instrument in the negotiation process. Many dealers readily agreed that the availability of such websites simplified their work considerably in that computer savvy customers knew exactly the kind of vehicle they wanted and how much its cost. Possessing that kind of information upfront definitely shortened the time required to purchase a vehicle.
Its board members unveiled their latest bold business plan in 1995 that called for the company to own and operate over 700 new dealerships within the top 130 domestic markets. The recently established General Motors Retail Holdings Company would be in charge of overseeing this operation. Detroit officials claimed that this latest move would ensure its dominance in the domestic auto industry for many years to come by markedly lowering current distribution costs. [52] Automotive critics totally disagreed with the board's thinking in that regard. They claimed that it was a very bad move in that it would virtually eliminate independently owned and operated franchises, the very backbone of General Motors from its very beginning. They further contended that the majority of independent dealerships, in themselves, lacked the extensive financial resources necessary to compete effectively in today's highly volatile business world.
General Motors executives countered this sharp criticism by saying that their actions should not adversely affect established independents. They further claimed that economic indicators overwhelmingly suggested that there was more than sufficient new business for all parties involved for at least another decade. However, most dealerships took a very dim view of such action claiming that it was unjustified. Overwhelming protests by distributors virtually everywhere forced General Motors officials to discard this highly unrealistic business plan very quickly. Arguments against it gained even further momentum when investigators discovered that 26 states prohibited such action.
Its Board of Directors attempted to quiet mounting opposition by asserting that corporate leaders had never intended to operate those new affiliates themselves. Instead, they had wanted to forge new partnerships with other independent leaders within those districts, while continuing to maintain close business ties with their own long-established franchises. In the mind of many corporate officials at that time, such arbitrary business action would significantly increase the company's profit potential within special marked markets. However, vocal opponents, who believed that long-term dealership loyalty took precedent over brief monetary gains, that might or might not transpire on an uncertain national scene, repudiated such arguments.
The growing popularity of regional superstores prompted General Motors to consolidate 11 dealerships in the state of California. These new superstores did quite well financially from the first day they opened. With no price haggling, extended business hours and a new and efficient parts and distribution system, those outlets soon distinguished themselves from other, more traditionally oriented dealerships. [53] During the first decade of the 21st century, corporate heads proceeded ahead with their brand new recruitment program aimed at increasing the number of ethnic and minority owned General Motors dealerships. The projected figure for new minority-owned dealerships stood at roughly 5%. Publicly traded, large e-commerce dealers such as Richmond, VA CarMax and Tempe, AZ Carvana had put pressure on Detroit's Big Three to increase their percentage of ethnic and minority owned outlets. The action taken by General Motors board helped to stimulate new car sales among minority groups.
The persistence of lackluster sales, during the first decade of the 21st century, induced General Motors strategists to offer all potential buyers special employee discounting pricing on their most desirable models. [54] Dealers nationwide supported those efforts. They firmly believed that this latest marketing ploy should produce very positive results quickly. [55] The media blitz that followed in the wake of that special announcement did indeed spark a renewed interest in buying General Motors vehicles. In fact, General Motors, in 2005, reported a 30% increase in new car sales over the previous year. Combining higher sales volume and lower trade-in allowances offset any financial losses dealers might have incurred by practicing such traditional, straight-line negotiations. [56] Filling up previous empty lots with beautiful new cars afforded a psychological edge to General Motors dealerships as well. Further factory and dealership incentives, in the form of 0% interest charges on select vehicles, also appealed to many sharp buyers.
Unfortunately, that increase in new car sales did not last too long. The recession in 2008 not only produced havoc within the national housing market; but also, ended recent sales advances made in the domestic automotive industry. Especially hard hit, throughout it all were new car buyers who required special financial packages. Low interest loans, with only minimal down payments, suddenly disappeared from the scene. Even those buyers with sound credit ratings found it increasingly difficult to secure reasonable loans. Part of the difficulty originated with the national lending institutions themselves. Leading leaders in the field, such as AmeriCredit and Citi Group, abruptly ended the traditional business practice of selling bundles of automobile loans to upscale investors at cost.
The collapse of the mortgage market in 2008 unequivocally barred traditional speculators from purchasing outstanding loan packages with expected credit lines. The sudden and dramatic reduction in the number of new auto loans issued, over the next four-year period, meant that many lending institutions no longer had unobstructed access to the many wealthy financial resources so essential in first guaranteeing and then sustaining such loans requests. Greater selectivity in lending practices became the norm industry- wide, not the exception. In essence, prudent thinking became the new, unmitigated guiding force behind virtually all successful deals. Even General Motors Acceptance Corporation used that same criterion whenever issuing automobile loans.
Automotive critics argued that major car companies might want to overhaul previously accepted borrowing practices in order to secure new sources of venture capitalism. Restructuring efforts, initiated during General Motors bankruptcy proceedings in 2009, compelled corporate leaders to use much of their recently attained U.S. Treasury loans to both reduce and restructure their new car inventories. General Motors went so far as to offer both low interest and 0% interest loans on some of that company's least favorite vehicles as a way of selling them as soon as possible. [57] The money secured from those sales went towards lowering General Motors overall debt. Board members also called for reducing the number of their dealerships to 4,700. [58] In the case of the Greater Cleveland market, General Motors leaders announced that they planned to close about 50 franchises by 2011. In the final analysis, the corporation eliminated around 6,000 dealerships. [59]
Bigelow Chevrolet was the first of 13 Northeast Ohio dealerships closed under that new executive order. [60] The elimination of this longtime distributor thoroughly shocked local dealers. [61] Although some regional leaders such as Ganley, Serpentini and Spitzer survived this initial cut back, that did not mean they were going to take the closings of other Greater Cleveland outlets lightly. [62] In fact, many local distributors chose to fight the order. Protesting dealers insisted that ironclad state franchise laws made such massive closings illegal. Many further believed that the simultaneously closing of so many affiliates, at one time, would significantly undermine the fragile economy of affected communities.
However, the concerns expressed by critics extended far beyond the immediate impact on the area's economy resulting from these closings. It was more personal than just such abstruse concerns. One thing that bothered many dealers was the possible economic fallout that might result for other local affiliates caught in arbitration. One scenario that kept repeating in their minds was what if during the arbitration process, the automaker, involved in the dispute, should suddenly transfer the bulk of its line of cars sold by its accuser to another, nearby affiliate, who was not involved in arbitration, and the arbitration board subsequently awards a large settlement to the dealer in question. That favorable outcome might not prove particularly advantageous for the victor over the long run. The problem would be that two local distributors would be competing directly against each other for the same customers with the decided economic advantage going to the dealer not involved in the arbitration process. If that was to happen, it would not only seriously jeopardize potential new sales activity for the company that had sought binding arbitration; but also, might pose other equally important legal concerns such as whether the auto manufacturer's actions represented a wanton violation of state franchise laws. Drawn out legal entanglements, like that, were certainly not beyond the realm of possibility given how the U.S. judicial system operates. Such a negative business consequence notwithstanding, the U.S. Congress, in 2009, passed a measure that encouraged local dealerships to do just that namely settle their major legal disputes with the auto producer through binding arbitration. Several prominent Cleveland dealers including Tom Ganley, Ron Marhofer and Alan Spitzer chose that particular course of action when challenging their parent companies.
General Motors counsel immediately asked the arbitrators to restrict all legal arguments exclusively to sales data. They denied that request. Instead, the arbitrators permitted those same distributors to challenge their manufacturer's annual sales quotas directly, while emphasizing their long, profitable connection with Detroit's number one automaker. General Motors lawyers attempted to counter those rather persuasive arguments by alleging that a smaller number of well-run dealerships would undoubtedly offer better service than large numbers of nondescript outlets scattered everywhere. Critics understood the logic behind General Motors thinking; however, furloughing thousands of workers during a national recession seemed especially harsh. Although receiving some financial help from the Obama Administration, those dealerships lost out and General Motors proceeded ahead with its plans that called for closing of over 2,000 additional franchises.
Its Board of Directors offered some financial assistance to compliant dealerships that now faced the unpleasant prospects of being elimination. That assistance, in the form of both cash and professional expertise, enabled them to dispose of their new car inventories quickly along with any expensive machinery or spare auto parts they might still possess. Throughout this process, the corporation reserved the right to cancel any franchise, at any time, if that dealer failed to comply with the terms stated in his or hers contract. The remaining franchises soon discovered that any business or monetary help they might receive from Detroit's number one automobile manufacturer came with a stiff price. For example, General Motors board could decide to limit a dealership's territory or increase its annual new car sales quotas without any previous warning. In addition, corporate heads might compel dealers to discontinue selling competing car makes and immediately update their showrooms whether those outlets involved could financially afford to comply with those mandates or not.
Over the past decade, many shrewd local affiliates have exceeded earlier board expectations especially when it came to such things as modernizing their facilities and offering a broader range of desired customer services. For example, Cleveland's Tim Lally Chevrolet not only provides its many customers with a first class facility; but also, affords them a full range of appropriate services. They include a children's play area, 12-seat movie theatre, and manicure services. [63] Some of the earlier dealers in Cleveland, such as David Blaushild, understood the full importance of offering top-notch service. With that very thought in mind, Blaushild Chevrolet, in 1963, offered its many customers coffee and cookies provided by a pleasant server named Pat Wettrich. [64]
Once safely out of bankruptcy court, General Motors insightful President Fritz Henderson announced that his corporation, in cooperation with eBay and several other recognized Californian based dealerships, planned to auction off new cars online. [65] Customers not only could bid directly online for a specific brand of auto; but also, chose a predetermined "buy-it-now" price that best suited their particular pocketbook. Some prominent dealers expressed outrage at such an idea claiming that if online purchasing became the norm it would mark the end of traditional car buying practices and the elimination of the many distributors that currently supplied the buying public with their vehicles.
Those initial doom-and-gloom economic predictions never materialized as dealership-related new car sales picked up drastically in 2011. To illustrate this last point, new car sales for the month of September 2011 indicated that General Motors had outsold Hyundai and Nissan combined by nearly 20%. [66] A special report by the NADA five-years later dispelled any earlier business notions that the buying public favored the gradual elimination of traditional dealerships. Dealers not only efficiently distribute automobiles to the public; but also, provide them with the kind of personalized service not found in computer-generated systems. [67]
Over the past eight years, a marked increase in new car sales on the global level has enabled this Detroit giant to direct much of its attention towards improving its domestic passenger car lines. As was pointed out earlier, a part of its bankruptcy reorganization effort resulted in over 1,000 dealerships seeking binding arbitration. Ultimately, the arbitrators required the number one domestic automaker to reinstate over 30% of those franchises slated earlier for closing. Most of those distributors were located in large market areas. Ultimately, that decision by arbitrators has worked out quite well for both the dealerships involved and General Motors. This Detroit leader has retained its status as the number one automaker worldwide manufacturing just below 10,000,000 vehicles in 2018. Most importantly, the General Motors Corporation continues to be a leader in technical innovations, while still selling a wide variety of top quality vehicles. Its recent financial success was not easy or smooth. A press release issued in March 2019 announced that General Motors plans to eliminate many of its current domestic auto models. Those slated for elimination include the Chevrolet Cruze, Impala and Volt models, Buick La Crosse series and Cadillac CT6's and XTS's. General Motors latest business strategy will concentrate on attaining more immediate profit rather than stressing volume new car sales. [68] This Detroit giant also intends to keep its present overhead costs to a minimum by manufacturing smaller numbers of individual models per year.
Similar business thinking prevailed in 2017 when Chrysler and Ford announced the elimination of their Dodge Dart and Ford Focus models. Like its two other chief domestic competitors, General Motors will focus on developing a wider range of SUVs and pickup trucks. Considered from a wider perspective, recent consolidation and elimination efforts initiated by General Motors Board of Directors, in conjunction with a series of carefully articulated business mergers prompted by the expanding world economy, has enabled the number one Detroit automaker to fulfill the many corporate challenges placed before it. Not all large domestic auto manufacturers can make that same business claim.
---