Concentrates of Place-2022
Cuyahoga County Public Library (Brooklyn Branch)- Ostromek
The location I chose to curate is the
Brooklyn Branch of the Cuyahoga County Public Library. 
What is the library's absolute location? Take a look at the map below!
The GPS coordinates of the library are…
Latitude: 41° 26′ 04″ N
Longitude: 81° 44′ 10″ W
Place
The CCPL Brooklyn branch is a staple of the Brooklyn community, serving residents from all around the county. The library is located at 4480 Ridge Rd, Brooklyn, OH 44144. There are many buildings in the surrounding area, such as the Brooklyn Historical Society, Brooklyn Schools, and the Brooklyn Recreation Center. The library is in a central area of Brooklyn and the city itself is relatively small, so residents who live in the community do not have to go out of their way to take advantage of the library's services. The library offers programs of all subjects to patrons of all ages, such as storytimes, free lunch programs, cooking programs, and even visits from authors! The library prides itself on building a sense of community and bringing people together through literacy and learning.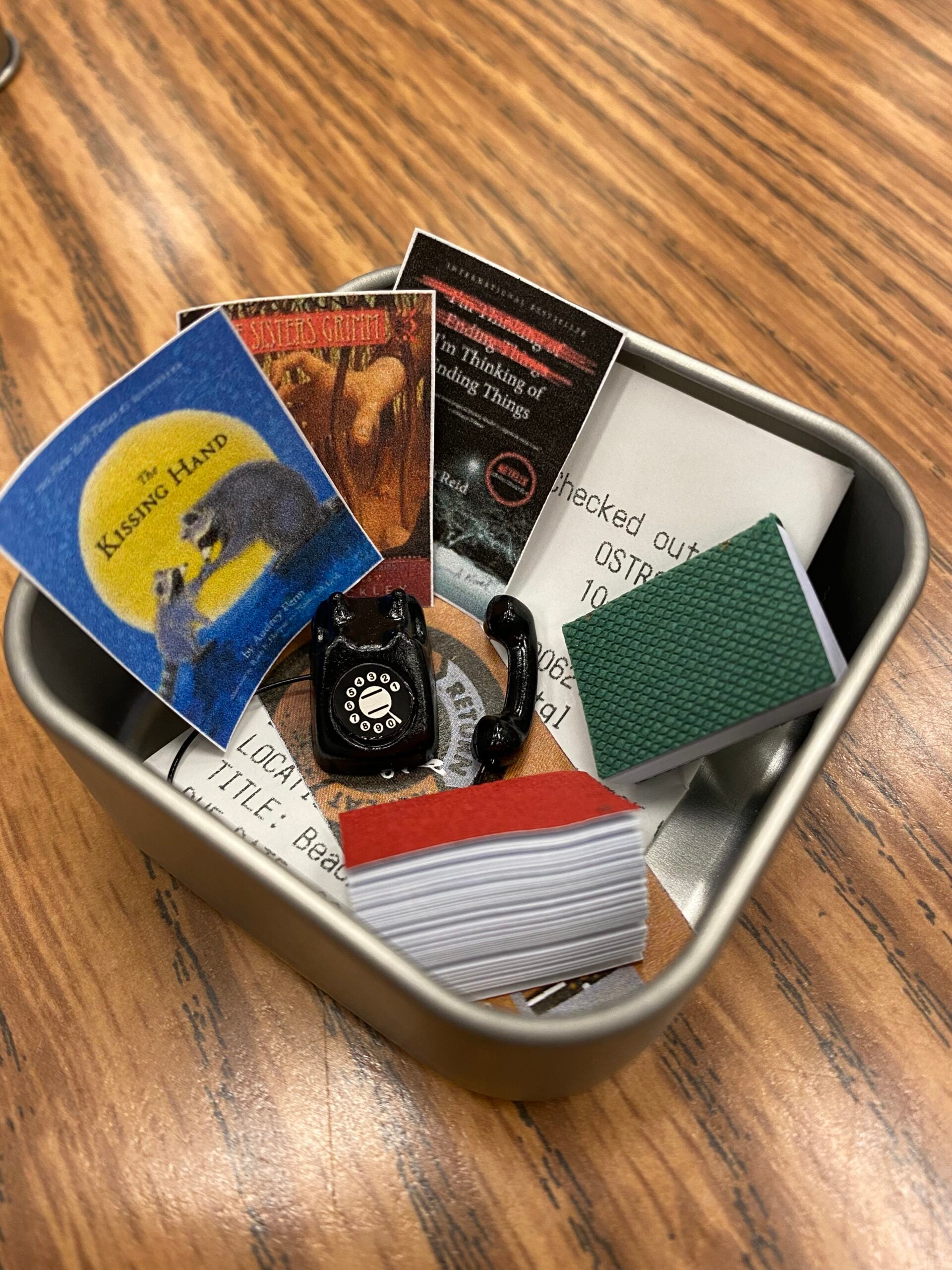 In my tin, you can find my library card, a due date slip, covers of my favorite books, two miniature books, and a miniature telephone.
What does this place mean to me?
The library has always been a place of comfort to me, ever since I was little. Growing up, my mom used to read to me all the time and once I was old enough, she signed me up for a library card. We would visit the library 2 or 3 times a week and these library trips with my mom are some of the best memories I have from when I was a child. I remember bringing my little bag and gathering all of the books that looked interesting to take home with me. I would go home and immediately start reading the books I had just checked out. I have so many pictures of me as a child sitting in the weirdest places, just reading my books. The Brooklyn library also used to house the toy collection, so I would sit and flip through the toy catalog for hours with my mom. The books and toys I got from the library would keep me occupied for hours on end. As I grew older and my school and extracurricular responsibilities increased, I stopped visiting the library as frequently and I didn't read as many books as I used to. Even when I started working there in college, my workload was too heavy for me to sit down and read for pleasure. It wasn't until this summer that I started reading books like I used to. I started with I'm Thinking of Ending Things by Iain Reid and this was the perfect book to reignite my drive to read as much as possible. All in all, the library has been my safe place for many years and I am so grateful that I get to work at the place that gave me so much joy when I was growing up. I now get to help foster that same love of reading in other patrons, young and old.