Concentrates of Place-2022
Kelley's Island – Jordyn Holod
Kelleys Island, Ohio
Jordyn Holod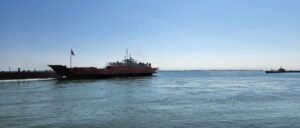 Relative Location
Kelleys Island is a 4.4 square mile island in Lake Erie. It is north of Marblehead, OH, and southeast of the popular Put-In-Bay Island. The island is not very far away, however it takes a half hour to travel from the mainland to Kelleys Island by the ferry services.
Absolute Location
Latitude: 41.5970° N
Longitude: 82.7102° W
Elavation: 597′
Google Map of Kelleys Island
Place
Kelleys Island is a small island, but still brings a lot to the table. This island offers a state park, restaurants/wineries, beaches, and historical sites. The Kelleys Island State Park has a boat launch, docks for fishing, plenty of open grass areas filled with trees, a public beach for swimming, and a bay for water activities. Though the island is small, there are plenty of places to eat and drink for the tourists it brings in. The highlight of Kelleys Island is the access to Lake Erie. The island has multiple beaches and rocks that get you close to the water. Kelleys Island is also rich with history. A famous site is Inscription Rock, which is a rock that has ancient Indian carvings. The rock has been weathered and the carvings can barely be seen now. Another interesting historical feature is the Glacial Grooves. The Glacial Grooves are made up of limestone bedrock that has fossils and deep grooves caused from glaciers from 18,000 years ago.
https://jordynholod.h5p.com/content/1291773930225051178
(My hotspots would not load but here is the link)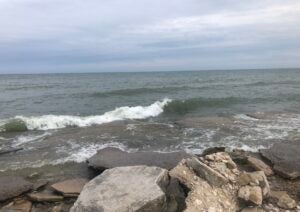 Sense of Place
There is no place like Kelleys Island. For me and my boyfriend's family, it is a very special place to us. Kelleys is where we get to unwind and relax. I love the beaches and secret hideouts I have found while on the island. The sounds of the waves is comforting and reminds me how much I love nature. My boyfriend and I love exploring the island and finding little trinkets to keep as memories. His family's house up on Kelleys is like a vacation close to home. The water is always fun to watch and be in. I love the docks built all around the island and dipping my feet in the water. If I ever need a break from how busy life can be, Kelleys Island is my go to place. As we always say during our trips up there "I love Kelleys Island!"