Concentrates of Place-2022
Backyard Home – Alison Moreno
Backyard Home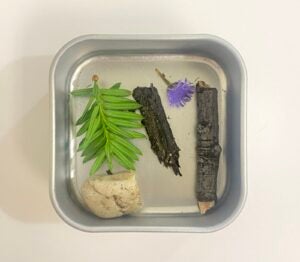 Relative Location
A backyard full of nature in Painesville, Northeast Ohio.
Place
My backyard is half patio and half grass. There's a variety of flowers such as tulips, viburnum, and many more along the fences and patio. On the left corner of the back part of the yard, we have three statues of frogs playing instruments like, the violin, harp, and the piano. On the right corner, we have a small shed which is surrounded by flowers and rocks. In between the statues and shed, we have a bunch of trees and shrubs plus a bird bath. This is a great place to hangout during the summer with friends and family.
Sense of Place
My backyard has a special meaning to me. I have been playing on it my whole life. It holds a bunch of memories with my friends and family and i'll cherish those forever. Looking at pictures of how it looked before and now is pretty cool. Before, there were no frog statues or purple flowers. What makes it more special are the flowers. Some people may think they're just flowers or they probably think we love the color purple a lot. But, knowing my dad planted those for me is really amazing.