Concentrates of Place-2022
Woodland Garden – Shelley E. Rose
Shelley Rose & Students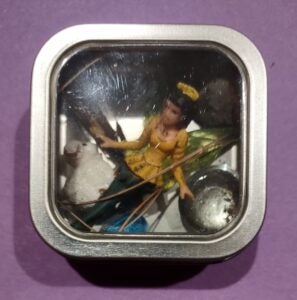 Relative Location
A woodland garden in Cuyahoga County, Northeast Ohio. Northeast of Cuyahoga Valley National Park.
Place
This woodland garden is located next to a stream. The plants in the garden were either in place when it was created or from local growers in Northeast Ohio. Plants like woodruff, Jack in the Pulpit, and ferns all bring forest environments to mind. One of the key human inhabitants of this space created a fairy garden for pretend play. The logs in the picture are from trees that fell naturally in the woods and help set the stage.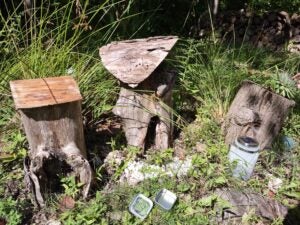 Concentrates of Place
Sense of Place
This woodland garden is a place of peace and creativity for our family. The little human enjoys building scenes like the fairy village out of natural elements. The adult humans find happiness in cultivating plants that suit the environment and listening to the soft gurgle of the nearby stream. All these physical and human geography elements create a unique place for our family. To others, it is simply the land surrounding our house, but to us it has special place meaning that will change over time but always be that of a woodland garden.