Chapter 2: Literacies at work, for fun, and at school
2.3 Communication at a popular chicken fast-food restaurant (argument from experience)
Camryn Berry
English 102, January 2021
When starting at any job, you must be willing to learn and gain a new set of skills from your experience. As a result, to learn, you must be open-minded and come into your job, ready and prepared to learn. With any job, you will have to engage in reading, writing, and conversations between customers and co-workers. At this chicken restaurant,  communication is a key aspect of the job. When working you must be able to handle information coming to you at a fast pace and be able to keep up with customers' needs and focus on your task. The pressure is on when you clock in for your shift, however, with proper communication, you will survive the eight hours of speed.
As soon as I turned 15 and a half, my father was on me to find a job. He found me a job at another fast-food restaurant and continuously embarrassed me at grocery stores and drive-thrus asking restaurants and stores if they were willing to hire me. So, I took it upon myself to find a job that I wanted and would like to have. I did not have a license at the time, so I wanted a location that was easy to get to on the bus. After searching for 3 days, my friend told me of a new Chick-fil-A that was hiring. The perfect job to have, close to home, easy to get to on the bus, and the best part, no more embarrassing dad. So, I applied and was hired a week later.
When first starting I was only 15 and could only work 2 hours per day, 3 times per week. However, during those shifts, I learned how to communicate with customers and tend to the entire dining room without having a manager tell me what to do. Running back and forth, refilling beverages, making perfect milkshakes, and sweeping floors was a tedious task. Now add a full dining room with 40 adults and screaming children in the first month—hectic! However, at Chick-fil-A, you all are a team. If you need help, ask. When I came in for the lunch rush, I would ask people who were not busy at the front counter to help take out the trash or watch the dining room for me while I cleaned the bathroom. Communication is key when working in a fast-paced job. After I got done cleaning the dining room and aiding guests, I would help make milkshakes. Once I was done creating a milkshake, I would bump it off the screen, so my fellow teammates would know not to make it again. Then I would rush back out to the dining room and hand out the milkshake to the person described on the order sticker. This process made it easier to find the guest and not waste time calling a common name.
When I finally turned 16, my list of tasks extended far past the dining room. They made me responsible for training new hires, bagging drive-thru orders, and taking orders. When first beginning an order, I would make note of their car on the system and greet the guest with "Hi, thank you for choosing Chick-fil-A! How can I serve you?" Trying to be as nice as possible but also quick enough to get the customer out of the drive thru and tend to the endless line of guests waiting to be served. I would take guest orders as accurately and quickly as possible to get the line down and have the kitchen prepare the food with enough notice to not have the line backed up. However, I did stop to have a few conversations with some of my friends, family, and friendly regulars who came to check on me in the drive thru. Then, I got right back to work to get the line down.
Most of the time on drive thru, there were only two people working. We had to make our drinks, milkshakes, and restock our station while taking orders. We had to work together to make sure our station ran smoothly. One person would make milkshakes and one would make soft drinks. Each taking turns to refill the ice cooler when the station was low. Despite the trying environment, with the help of each other and creating a game plan, the shift ran smoothly.
One of my favorite tasks was training incoming employees. I first read through their file, and if they did not have one, I would make them one. I read through their file a little to plan on what I should be teaching my new teammate. I would set them up on an iPad and have them watch a few training videos before I started formally training them. I gave them the manual before training them. Afterward, I let them apply their new knowledge and let them experience working there firsthand. I taught them skills they would need to be successful while also trying to ease them into this brand-new environment, such as how to properly take orders, how to make milkshakes, how to clean the play area and bathrooms, and most importantly how to communicate with fellow teammates and customers. While training, I would leave notes for other trainers to make note of how the trainee was doing and what they could improve on. It was my daily task to communicate with the training lead on how effective the person was listening and following directions to the best of their ability. I would constantly give them small quizzes to make sure they understood what they were doing, and I also showed them aspects outside of the training videos, such as what extras could be placed on salads and our rules for sauce distribution. At the end of their shift, I would congratulate them with a milkshake and send them home.
When a bagger went on break, I was the first to step in. Reading the screen with the customer's meal and bagging it as fast as possible, so the customer is not waiting at the window for a long time. This also includes reading off the number of sandwiches to put in the bag and how many fries to include. I had to have faith in my order takers because they were the ones who told me what to bag. However, there were times when food was not available due to circumstances in the kitchen. The kitchen told me how long it would be for the food to come up. If the wait for food was too long, I would have to communicate with the person in the window to tell the customer to pull into the parking lot until we could get their food out. This made the line feel as if it was going much faster, and it allowed guests whose food was prepared already to get through the drive-thru faster.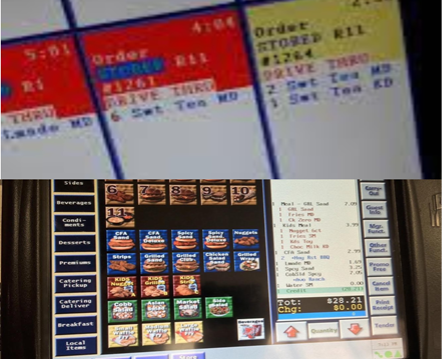 The images above show the screens that I read while at Chick-fil-A. The top image is of the screen I read as a bagger. The screen would be filled with customers' orders. This screen helped tell me how many fries to put in the bag, what to bag separately if a person had a gluten allergy, and any special request I should look for before completing the order. The picture on the bottom is the POS system I would use to take orders while at work. It took a while at first to understand the system but with help from my teammates, it became second nature. I was able to record the car description, the customer's name, and their entire order in 45 seconds to keep our speed of service down. Then from our ordering system, I would send the order to the bagger and the bagger would send it to the window. Then, the order was completed and given to the customer.
In conclusion, while working at Chick-fil-A everyday duties required me to communicate with guests and teammates, read orders, and effectively write notes for fellow teammates. These skills were imperative for me to complete my job. Not only were they helpful in making my job run smoothly. It also helped my entire team. While working at Chick-fil-A, I learned that communication is key in making any task run smoothly. There were times at work when my team and I did not communicate with each other. We ended up holding on food and our drive-thru line reached the dumpster. Customers had to wait 20 minutes to get through our line. We had to build communication by explaining to order takers, cooks, baggers, and the window people what we needed to happen for our line to move faster. Also, during those shifts, we had to become more patient because communication is not automatic.  Therefore, if a team does not effectively communicate with each other, then the business does not run smoothly. It is better to speak up and say what you need.