Chapter 8. Resource Management
8.2 Project Resource Management Plan
As described in Chapter 4, project planning is at the heart of the project life cycle and tells everyone involved where we are going and how we are going to get there. It involves creating a set of plans to help guide the project team through the implementation and closure phases of the project. The project resource management plan is one of the sub-plans of the overall project plan. It provides the guidelines to project managers on how to estimate, acquire, manage and utilize physical and team resources[1]. It is the process of establishing the policies, procedures, and documentation for planning, developing, managing, executing, and controlling the project resources[2].
The resource management plan can consist of the following:
Project Organization Charts

Project team members and their reporting relationships are displayed in these charts.
A team charter is prepared to establish team values, agreements, communication guidelines, decision-making criteria and processes, and operating guidelines for the team[3].

Resource requirements

Types of resources (e.g., human resources, physical resources, services)
Human resources (Core team members and people for all project activities)

Required skills and competencies
Roles and responsibilities
Authority level (e.g., decision-making, inspecting, and accepting deliverables)
Effort in hours (e.g., daily working hours – full-time or part-time, the total amount of work hours)
Source (e.g., PMO – Project Management Office, other functional units, regional offices, outsourcing, offshoring)
WBS activity link

Required features for physical resources (e.g., equipment, materials, facilities, infrastructure, supplies)

Project team resource management

Methods for developing and managing the project team
The decision criteria when to use project team human resources and the human resources outside the team.

Resourcing strategy

How will resources be acquired and released from the project?

Resourcing assumptions

Are there any assumptions about the resource requirement estimates?
Vacations, holidays, training, meetings, interruptions, sick leave.

Rewards and recognition

Define the criteria for rewarding project team members for the work that they have done.
Which rewards will be given and when?
How much money is set aside for the project?

Resource control

Which methods will be used to monitor and control the project resources?

Health and safety

Are there specific health and safety practices that will be followed on the project?
In the resource management plan, including a Resource Breakdown Structure would help the team substantially to illustrate the needs in a hierarchical structure. An example is given in Figure 8.1 based on the case study regarding Grocery LLC's M-Commerce Project.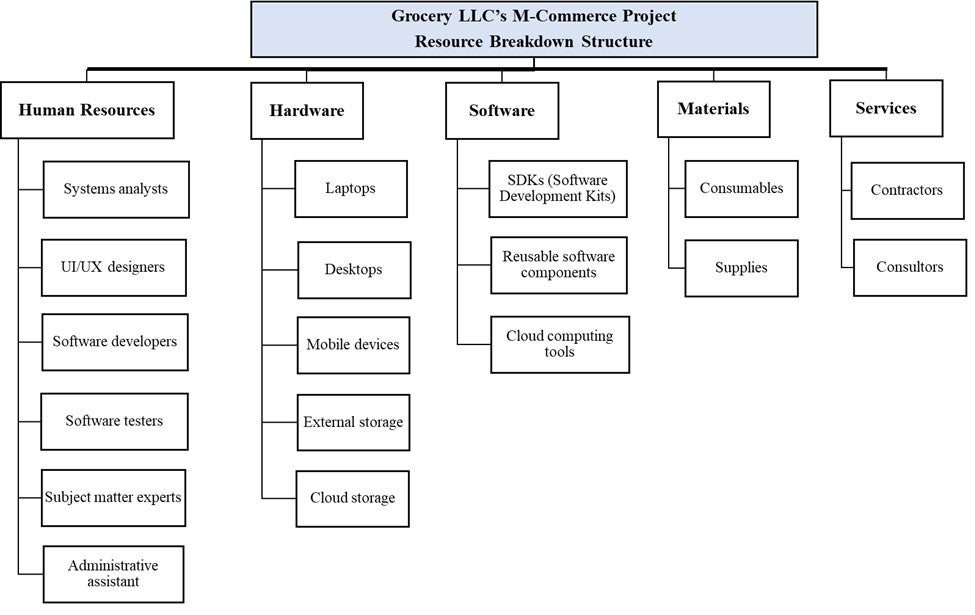 ---
Project Management Institute. (2017). A guide to the Project Management Body of Knowledge (PMBOK guide) (6th ed.). Project Management Institute. ↵
Project Management Institute. (2017). A guide to the Project Management Body of Knowledge (PMBOK guide) (6th ed.). Project Management Institute. ↵
Project Management Institute. (2017). A guide to the Project Management Body of Knowledge (PMBOK guide) (6th ed.). Project Management Institute. ↵