Press Releases: Historiography Edition
Rose- Sabean, Power in the Blood
The Peasants Were Worth It: The Impact of David Sabean's Power in the Blood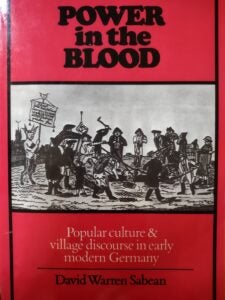 Historiography Connections
Cultural History, Social History, Alltagsgeschichte/Everyday Life History
Geographic Coverage
Central Europe
Citation for First Edition/Printing
David Sabean, Power in the Blood: Popular Culture and Village Discourse in Early Modern Germany (New York: Cambridge University Press, 1984)
Press Release
Historian David Sabean spent over a decade studying peasants in the former Duchy of Württemberg (now within Baden-Württemberg) and produced three books and many articles based upon this research.[1] An historian of central Europe, he combines social and cultural history, as well as anthropology, in his effort to recapture popular culture in early modern Germany.[2] Published in 1984, Sabean's innovative interdisciplinary methods set Power in the Blood apart from previous scholarship on Central Europe and pioneered techniques from disciplines like anthropology, like thick description, that would become staples of the field of cultural history.
 Content
Power in the Blood is a pioneering work of cultural history due Sabean's reading of sources from institutions that, "exercised dominion over the peasant," such as the state.[3] He demonstrates reading across the grain in six case studies from all over the former duchy of Württemberg that focus on village relationships. Sabean highlights exceptional cases of social upheaval or 'criminal' activity, such as a peasant prophet, that both supplied numerous documents and served as prominent filters of popular culture in the early modern period. In other words, he does not seek the banal, daily activities of peasant so much as he searches for the extraordinary events which reveal daily power struggles within relationships of individuals and masters; peasants and their superiors.
Methods
Sabean combines social history methods, mainly influenced by the Max Planck Institute for History, and social anthropologist Clifford Geertz's own method of 'thick description' to form the basic ingredients for his technique.[4] Geertzian 'thick description' consists of observations conducted by an ethnologist and subsequently discursively couched in the cultural context and dynamics of the evaluated group.[5]  Anthropologist Chris Hann adds that, "'thick description' of a very few events at different points in space and time," also characterizes the method.[6] Clearly influencing Sabean's interpretation of culture, Geertz defines the term as, "a context, something within which [actions] can be intelligibly- that is thickly- described."[7] Whether historian or anthropologist, observers must inquire into the meaning behind every action and convey that meaning to an outside audience. It is this meaning that Sabean uncovers in his effort to reveal everyday power relationships in early modern German villages.
Each of Sabean's examples contextualizes a crisis moment, such as the outbreak of disease, that highlights village power relationships. Take a look at his table of contents: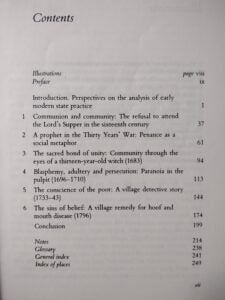 Critiques
Sabean took a methodological risk when he chose to focus on peasants as his agents. There is little surviving documentation of the everyday life of peasants. Instead, Sabean relies on techniques from other fields like anthropology to provide readers with the details he does have. By laying his sources bare through thick description, he introduces a very transparent strategy of providing readers with his evidence and his argument in the same text. The debate about this technique is whether it challenges the authority of the historian or if the greater benefit is that the historian gives more authority to the historical agents/sources.
Impact on Historiography
The concepts of early-modern personhood and community relationships as analyzed in Power the Blood have also left an indelible imprint on peasant everyday life, or Alltagsgeschichte, research. Importantly, Sabean employed the concept of culture as a process, challenging the way historians think about cultural practices in the past as static. Sabean built on this foundation in his subsequent work Property, Production, and Family in Neckarhausen, 1700-1870 and Kinship in Neckerhausen.[8]
Sabean notes that his wife candidly posed the question: Were the peasants "worth it?"[9]  Sabean's important contribution to historiography and cultural history helps us answer even 40 years after its publication: Yes, the peasants were worth it.