Press Releases: Historiography Edition
Stadalsky- Colored Conventions Project
Impact of the Colored Conventions Project: A Digital Humanities Project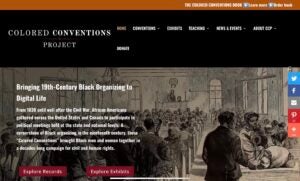 Historiography Connections
Digital History, Public History, Social History
Geographic Coverage
United States & Canada
Citation for the Digital Humanities Project & Link
Foreman, P. Gabrielle. "Home." Colored Conventions Project, February 1, 2022. https://coloredconventions.org/.
Press Release
Historian P. Gabrielle Foreman is the Colored Convention Digital Humanities Project's founding faculty director. Her main focus of history is in Black literary history and culture. She is the author of four books and editions, and is known for her widely taught essays. [1]  Gabrielle is a Professor of English, African American Studies and History at Penn State University where she holds the Paterno Chair in Liberal Arts and is the founding co-director of the Center for Black Digital Research. [1] This project developed from her graduate class in 2012, and since then, has continued to work with the team and its partners. The CCP core team is composed of a diverse group of scholars, researchers, etc.
Content
From 1830 until well after the Civil War, African Americans gathered across the United States and Canada to participate in political meetings held at the state and national levels. A cornerstone of Black organizing in the nineteenth century, these "Colored Conventions" brought Black men and women together in decades-long campaign for civil and human rights. [2] Included in the website are several tabs to learn more about the project. The Conventions tab describes what the Colored Conventions are along with records and the bibliography. These political gatherings were opportunities for formerly enslaved African Americans to come together for racial justice. More than 200 state and national Colored Conventions were held between 1830 and the 1890s. [3] The Exhibits tab provides digital and interactive exhibits of documents and images to further understand the conventions. The Teaching tab delivers teaching guides on how to use The Colored Conventions Movement: Black Organizing in the Nineteenth Century (2021), book in the classroom. This book is a collection of essays focusing on Black civil rights. The News and Events tab provides current news, videos, press, etc. The About CCP tab has links to meet the team, their core principles, #DigBlk, contact us, and a how to use this site link.
Methods
Through a digital history, public history, and social history lens, Foreman offers a way to shed light on the Colored Conventions and the importance of them. Social history is used to show the long history of Black political organization before, during, and after the Civil War. Digital history is a fairly newer type of history. On this website, it is used for people to access these important records that have been digitized. It is also used for people to submit records into the database. Using digital history as a lens is very important because of the accessibility it provides the public. You can now access information within seconds. The Colored Conventions Project is a great example of public history. It describes women's roles in society during those times. It demonstrates the way the Black community came together to start a real movement.
Critiques
Foreman took a risk when deciding to create a digital project as important as this one. Many historians would prefer to view primary sources in hand, in real life, real time. However, after viewing the website and reviews on the website from many historians, it's clear that this project was and is still a major success. The search function, "how to", and a place to submit feedback are all pieces of the website that are well constructed. The project as a whole is a tremendous example of a successful partnership with the community that is also reflected in the digital archive. [4] The number of resources and sources found on the website are enough evidence to support Foreman's claims on the importance of the Colored Conventions in the 19th century. 
Impact on Historiography
The impact of the Colored Conventions project provides a never before seen look at the powerful and impactful structure of Black organization. Mirroring the collective nature of the nineteenth-century Colored Conventions, CCP uses innovative, inclusive partnerships to locate, transcribe, and archive the documentary record related to this nearly forgotten history and to curate engaging digital exhibits that highlight its significant events and themes. [5] 
[1] "People: Faculty – University of Delaware." Gabrielle Foreman Biography. Accessed November 9, 2022. https://www.history.udel.edu/people/faculty.
[2] Foreman, P. Gabrielle. "Bringing 19th-Century Black Organizing to Digital Life." Colored Conventions Project, February 1, 2022. https://coloredconventions.org/.
[3] "About the Colored Conventions." Colored Conventions Project, December 5, 2019. https://coloredconventions.org/about-conventions/.
[4] Shehu-Endo, Lola, and Maggi Delgado. "Colored Conventions Project Review." Manifold @CUNY, April 25, 2021. https://cuny.manifoldapp.org/read/colored-conventions-project-digital-records/section/e3c63963-1632-4d44-9454-4ed20f82806a.
[5] "About the Colored Conventions." Colored Conventions Project, December 5, 2019. https://coloredconventions.org/about-conventions/.