Sharaba- Celebration of Robert Manry
1965 Celebration of Robert Manry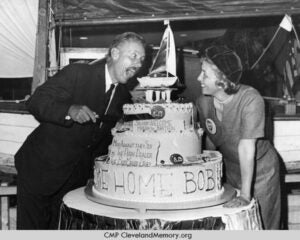 Sourcing
What
This photo was taken at a celebration held in honor of Robert Manry at the Sheraton Hotel in Cleveland (see map). Robert Manry worked for the Plain Dealer as a copy editor. In 1958, Robert purchased Tinkerbelle, a 13.5 foot sailboat. In the summer of 1965, Manry sailed Tinkerbelle 3,200 miles across the Atlantic Ocean. Manry left Falmouth, Massachusetts on June 1, 1965 and arrived at Falmouth, England on August 17, 1965. This event received world attention, and when Manry arrived back in Cleveland, he was greeted with a parade in downtown Cleveland and a luncheon at the Grand Ballroom of the Sheraton Hotel. Once Manry returned to his homeplace of Willowick, Ohio, another parade attended by 10,000 people took place.
When
This photo is from a celebration held on September 1, 1965.
Where
Who/Creator
This photo is from the Cleveland Press Collection at Cleveland State University Library's Special Collections.
Contextualization
The hotspots in this image contextualize the photo and analyze its historical context.
Born high in the Himalayas at Landour, India, Manry spent most of his early years in Allahabad, Uttar Pradesh. His earliest sailing adventures took place on the Yumana (Jumna) River. Manry moved to Cleveland in 1953, where he joined the staff of the Plain Dealer as a copy editor. Manry purchased Tinkerbelle in 1958 and made repairs, sailing her in 1959 for the first time. Manry made his voyage in 1965. Manry's achievement made sailing history, as he is the first to make a non-stop solo Atlantic crossing in a boat so small. After his historic voyage, he went on to publish a book on the voyage, Tinkerbelle, which immediately became a bestseller. Manry began another voyage around the eastern United States in 1967 in a new boat, Curlew. His wife and family joined him on this one. Manry died on February 21, 1971, from a heart attack in Union City, Pennsylvania.
Married in 1950, Virginia Manry remained supportive of her husband's sailing adventures throughout their time together. In an article Virginia wrote for the Plain Dealer, she explains that she worried for Robert but had faith in his ability to sail Tinkerbelle across the Atlantic.  Toward the end of his journey to England, Virginia met Robert and kissed him in the middle of the ocean. She says this was her biggest thrill. Virginia joined Robert on his voyage around the eastern United States aboard Curlew. Unfortunately, on May 3, 1969, Virginia died in a terrible car accident near Youngstown, Ohio after visiting her ailing mother in Pittsburgh. Because of Virginia's death, Robert never sailed again and was unable to continue writing his second book.
In her book Hidden History of Lake County, Ohio, Jennifer Boresz Engelking writes a section on Manry and his voyage. She explains Manry dreamed of getting away from "the sedentary life of the copy desk" and setting sail across the sea. Manry bought a small bought from a family in Cleveland for 30 dollars, adding a new mast and sleeping quarters. The Manry family, including Virginia and their two children, Robin and Douglas, named the boat Tinkerbelle after the children's fascination with Peter Pan. They added the e like the French word belle, meaning beautiful. Many people thought that Manry's proposal was insane, but he was determined. In his book, he explains that Tinkerbelle had already taken six-foot waves and about thirty-knot winds on Lake Erie without having the heave and he was confident that she could withstand conditions that were far more severe. Manry donated Tinkerbelle after his voyage to the Western Reserve Historical Society, which now displays the boat and various pieces of memorabilia from the journey.
50,000 Welcome Manry to Britain
An article in the Plain Dealer expresses the joy of 50,000 English residents when Manry landed in Falmouth on August 17, 1965. Thousands and thousands of people jammed the streets of Falmouth Harbour awaiting Manry's arrival. People were perched on window ledges, jammed out onto piers, swarming the harbor in hundreds of boats, hanging from trees, standing on hedges, and looking out of windows for Manry. Helicopters of the Royal Navy and four-engine Shackletons of the Royal Airforce greeted and assisted Manry upon his landing in England. The small town, with a population of 17,500, became a circus town when Manry completed his transatlantic voyage.
Corroboration
There are many sources that can help historians understand the celebration in this image and its purpose. Robert Manry's book Tinkerbelle is a great place to start, as it is his firsthand account of his voyage. Biographies of Roberty Manry and Virginia Manry would also be very helpful to further understand this image.
Additional Sources
The following sources can be used to corroborate the celebration in this image.
Manry, Robert. Tinkerbelle. N. Y.: Harper & Row, 1966.
Robert Manry's bestselling novel about his voyage across the Atlantic Ocean.
https://www.robertmanryproject.com/
The Robert Manry Project gives information about Manry and his life, personal stories about him, a link to his book Tinkerbelle, and a link to the documentary made about Manry entitled Manry at Sea.