Press Releases: Historiography Edition
Sharaba- Peiss, Hope in a Jar
Throw-Away Feminine Objects are the Stuff of Serious Investigation: The Impact of Kathy Peiss' Hope in a Jar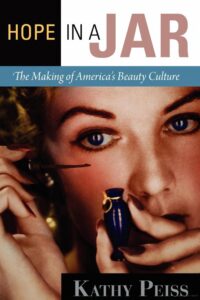 Historiography Connections
Cultural History, Social History, Women's History
Geographic Coverage
Citation for First Edition/Printing
Kathy Peiss, Hope in a Jar: The Making of America's Beauty Culture (University of Pennsylvania Press, 1998)
Press Release
Historian Kathy Peiss is the Roy F. and Jeannette P. Nichols Professor Emerita of American History at Penn, where she taught modern American cultural history courses, as well as courses on the history of American sexuality, women, and gender. Kathy Peiss' research examines the history of working women and popular culture in the United States and abroad [1]. Peiss' work [2] shows a particular interest in the ways that culture shapes the everyday lives and popular beliefs of Americans across time, and tends to challenge notions popular at the time she is writing. Through her analysis of women's diaries, medical records, antique advertisements, and sales journals, among other things, Kathy Peiss challenges the notion that the beauty industry was created and dominated by men to put women down and seduce them into "beauty" in her book Hope in a Jar: The Making of America's Beauty Culture [3]. Peiss challenges this common feminist thought by arguing that the makeup industry was built for women, by women. Peiss takes a relatively neutral approach toward wearing makeup while focusing on the impact that society has had on women's cosmetic choices.
Content
Hope in a Jar is a pioneering work due to Peiss' challenging of the notion that the beauty industry is dominated by men and its' purpose is to put women down. Early on, makeup wasn't supposed to be seen if it was used. Peiss explains that in the late eighteenth and early nineteenth centuries, recipes for cosmetics were published in the United States primarily by women, as a "popular health movement, emphasizing self-help, prevention, and natural remedies gained ground." [4] In the 1860s, photography introduced a whole new issue with self-esteem, as this was the first time people were really able to see what they looked like [5]. Peiss discusses the "golden age" of cosmetics, when women produced, advertised, and sold cosmetic products [6]. The cosmetics industry provided women with respectful jobs and opportunities that they otherwise may have not been able to obtain, a great alternative to low-paying work. Black women especially used the cosmetics industry to forge a new life for themselves, and cosmetics became instantly political for women of color. Immigrant, working-class, or black women, coming from poor, socially marginal backgrounds, played a central role, becoming inventors, entrepreneurs, manufacturers, distributors, and promoters. Peiss even argues that women in the cosmetics industry pioneered the development of modern franchising and direct-sale marketing strategies [7]. By the 1930s, makeup became more of a necessity than a luxury. Contradictions plagued white Americans and black Americans, with women of color more self-consciously political both in the pursuit of economic independence and cultural pride and in doing so within the confines of white racist definitions of beauty [8].
Methods
Peiss approaches this issue through the lenses of cultural history, social history, and women's history. Peiss uses cultural history alongside social history to illustrate the ways that society can impact the reactions and views of certain concepts. In this case, visible makeup reflected one's morality in the early 1800s, but by the 1880s cosmetics began to slowly cross into everyday life. A fundamental change in the importance of image making in everyday life was taking place in the 1880s, so long as makeup was used for the right reasons [9]. Peiss analyzed how as the social stigmas around makeup changed, the cosmetics industry became more complex and successful. This allowed women to get opportunities that they otherwise wouldn't have had.
Critiques
Peiss references compelling stories throughout her novel, which she often glosses over. Clare, from The Literary Omnivore, argues that Peiss offers a story of a woman who wrote that she would use cosmetics more if she wasn't under the control of her abusive husband, without ever explaining if that woman escaped her marriage or not. Peiss also mentions that Harriet Hubbard Ayer's family had her committed to an asylum in order to gain control of her cosmetics company, but never mentions the story again. Clare also argues that Peiss races through the development of the cosmetic industry from the 1930s on, which could have been expanded on much more thoroughly [10]. Gwen Kay also critiques Peiss for not diving deeply enough into some elements that she introduces in her book. Kay argues that the illustrations Peiss provides are a tremendous asset, but Peiss did not refer to many of them in the text. Kay also argues that time jumps around a lot throughout the book, making it difficult to pinpoint a specific moment in time [11].
Impact on Historiography
Peiss' work has a great impact on the study of history because she challenges the most popular notion regarding the growth and sustenance of the cosmetics industry at the time. Peiss addresses that most judgments of the cosmetics industry often come from feminists who argue that the powerful male-dominated consumer industries and mass media have been a leading cause of women's oppression. This view argues that the beauty industry has added to the legal and economic discrimination against women and manufactured ideas of beauty have come to dominate women's consciousness [12]. This view can be seen in Naomi Wolf's book, The Beauty Myth [13].  Wolf's book, published 8 years prior to Peiss' first publication of Hope in a Jar, aligns with the popular notion that the cosmetics industry causes the subjugation of women to men in our society. Wolf's main argument is that the beauty myth declares that there is a difficult quality called "beauty" that women should do everything they can to chase, achieve, and sustain. She believes that this myth not only continues discrimination against women but also strengthens the double standard by assuring women to earn low wages and men to earn high wages [14]. Peiss' book argues otherwise, impacting the way that we view makeup items and the cosmetics industry as a whole. She demonstrates although men have begun to take over the industry, cosmetics will always remain an industry created for women, by women [15].
In the preface of Hope in a Jar, Peiss shares that her aunt wondered how such throw-away feminine objects could be the stuff of serious investigation while discussing the origin of her idea to write this book. Peiss declares that this book is her answer to her aunt's question- throw-away feminine objects are the stuff of serious investigation- and this is how [16].
---